I noticed that Singapore statistics is one of the most popular blog posts on my blog 🙂 Who would have thought that yeah?
The post was published in 24 May 2009 when i was still in Singapore. Yet who would have guessed that only 4 months later, i moved to Ho Chi Minh Vietnam. That post was also the 98th post, right before my Acknowledgement post.
This time round, i will give some updates for the year 2010, instead of 2008:
1. Singapore Population:
Singapore annual growth rate for citizens is at 0.9%. Permanent resident growth rate of 1.5%.
Total population is at 5.0767 million for 2010, in which 3.771 millions are residents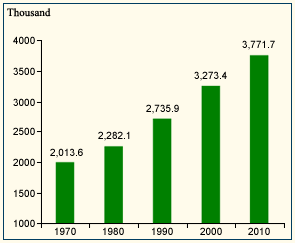 Foreigners contribute 1.305 million, which is marginally higher than 2 years ago 1.197 million. 1.305 million represent 25% of the total population in Singapore. And i would bet that the majority of the 1.305 foreigners in Singapore are in the working age i.e. they contribute directly to the Singapore workforce.
Singapore residents between 15-64 years old are about 2.7789 million. So in fact, the ratio between foreign workforce vs local workforce in Singapore is 1 to 3 or 33%. This is a huge percentage i believe.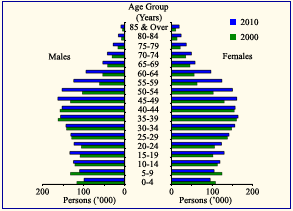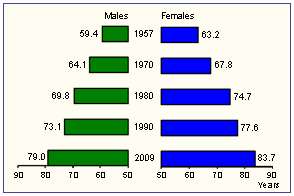 If you are a divorce attorney, you are probably interested in the data below
2. Singapore Work force education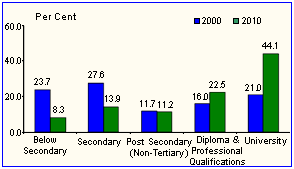 As you can see from the graph above, in 2010 the percentage of Singapore resident with secondary or higher qualification is about 91.7%. Especially those with university degree are at 44.1%. This is quite high if we compare with other countries in the region.
3. Singapore economic indicators
Singapore GDP in 2010 at current market price 303.652 billions Singapore dollar or 240.6 billions US dollar.
Vietnamese GDP in 2010 is around 100 billions US dollar.
Per capita for GDP in Singapore S$59,813 or US $47,391 while the number for Vietnam is around $1000.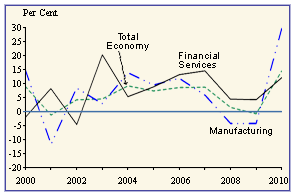 Annual inflation rate in Singapore for the past 10 years is less than 3%. However that ratio for Vietnam is always more than 6-7%, or some time 15-20%.
Visitor arrival in Singapore past 11 million in 2010. The respective number for Vietnam is around 5 million.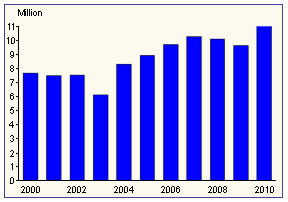 Foreign direct investment in Singapore for 2009 past 500 billion Singapore dollars, nearly two times the GDP level of Singapore! This is quite a big number considering the size of Singapore is just like a city.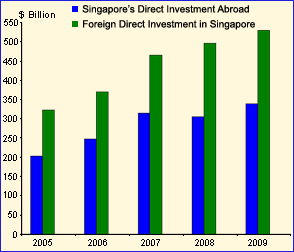 Working in Finance & Insurance seems to make the most amount of money in Singapore on average!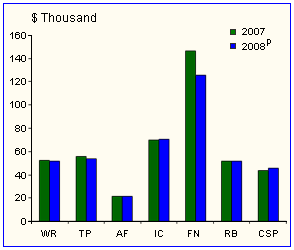 There are many numbers that are worth mentioning and if you want a complete set, please refer to Statistics Singapore – Key Annual Indicators
Thanks,
Chandler