As reported by different newspapers (TechinAsia or Nhip Cau Dau Tu in Vietnamese) , Wada.vn came out this month with the official launch this week Wednesday.
I was invited to the launch party and felt compelled to review Wada.vn again now that it's out of beta. I wrote a piece about Wada before back in June 2013 about "Search Engine Battle in Vietnam".
I won't repeat what others already covered but rather put in a few general comments and review the product from a consumer point of view, from both desktop and smartphone versions.
Before we start, I have to say that the event was great. Wada team did put lots of efforts in making sure the event was a success. For their product, it has come a long way, especially if you know that wada.vn is less than 2 years old. (I know it's not easy to build a product)
As per usual, I am open to feedback and what I write could be terribly wrong so please feel free to share your opinions.
1. Long term strategy
Below is the slide that the Director from Wada.vn showed to the crowd, explaining the long term strategy for Wada.vn: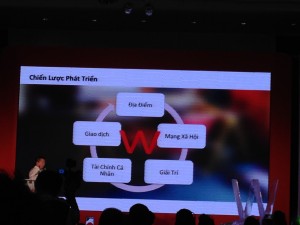 It is in Vietnamese. The English equivalent is: there are five areas that Wada.vn will focus on. They are:
Location

Social network

Entertainment (they mean games and others)

Personal Finance

E-commerce
I may be over-analyze this but I didn't see the word "search engine" on this slide, which is "weird", since Wada.vn started as a local search engine, tring to compete with Google. However, I have the feeling that the company is pivoting away from the "generic search engine" approach. 
Also, I am not sure how you would feel looking at the long term strategy above but to me, it's too much. Each area that Wada.vn wants to go into needs serious focus and already have strong local/international players. It's too much and it's not clear at the same time. I am sure the team at Wada doesn't want to "open the kimono" to everyone, but that long term strategy slide is again, "weird".
2. No traffic or usage data was announced
I found it a bit weird also that there was no mentions of either traffic or usage data in the event. When Christopher Brinkeborn Beselin (the CEO & cofounder of Lazada) was on stage, at least he shared two figures that showed why Lazada.vn mattered. They are: Lazada is amongst the top 50 most visited websites in Vietnam and it has 600k fans on Facebook.
Ok to an E-Commerce platform, the number of fans or traffic figure may not be everything (what if there are tons of traffic but no transactions?) but at least it is "something" to show the audience that why we need to care about Lazada.
For Wada.vn besides the fact that it has more than 50k location listings in its database, I don't recall hearing anything else. 
3. Clean and Simple Interface
The first impression for both Desktop and smartphone versions is that the interface is much cleaner, using design elements that are somewhat similar to iOS 7 and Windows Metro style.
This is the homepage for desktop: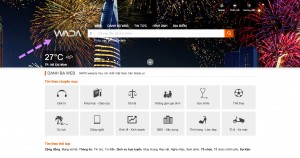 and this is the one for mobile: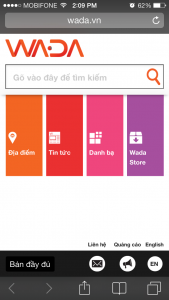 I personally like the mobile homepage much more because it's really simple and easy to use. For the desktop version, while the search box is prominently placed, the background image is somehow too distracting and the contrast ratio between the Wada logo and the firework (and other elements) is quite low so it's a bit hard to read.
All the important information is above the fold for the desktop version! (At least for my screen resolution). Bravo!
4. Generic search engine review
Let's try to put in a couple of keywords to test Wada.vn as a generic search engine again and compare the results with June 2013.
4.1 Navigational queries
Last time, I used "HSBC Vietnam" so this time, I use "ANZ Vietnam", which is kinda equivalent. The auto complete function appears as usual. However, the suggested link is not good.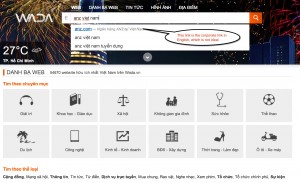 This is the result page: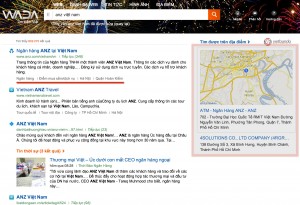 The first result is good. It even has a few sitelinks at the bottom which is not bad. Results 2, 3 and others are not good. They shouldn't be in the first page in my opinion.
Under the map listing on the right hand side, there is a very strange link "4SOLUTIONS CO., LTD COMPANY (4RGR". I have no idea what it is and how it is relevant to what I am looking for when I type in "ANZ Viet Nam".
Next, let's try "domino pizza phu my hung", which is the equivalent of "pizzahut le thanh ton" in the last post.
This is the result from Wada: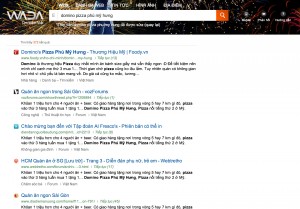 and this is from Google. I will leave it up to you to draw your own conclusion on this.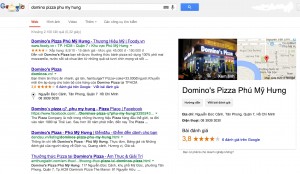 4.2 Informational queries
I use the keyword "How to make sour fish soup" or "cách làm món canh chua cá" and the below is the result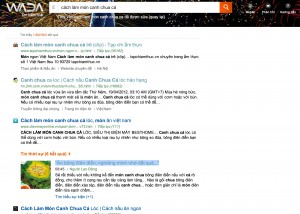 The first two results are not bad. Number 3 and 4 are not very good as you could see.
Below is the result from Google for the same keyword: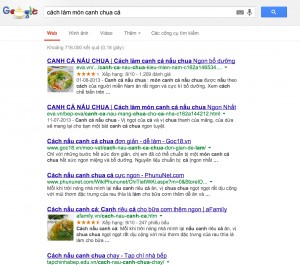 4.3 Transactional queries
Since Lazada.vn and Wada.vn signed the official partnership agreement during the event, I want to see if Lazada receives any special treatment from Wada.vn when it comes to ecommerce queries so I try "buy samsung galaxy tab 3" which is one of the promotional items on Lazada.vn
This is the result from Wada.vn for "mua samsung galaxy tab 3"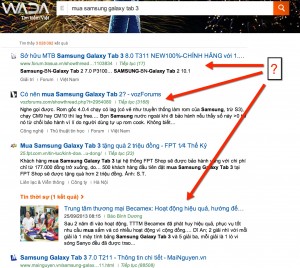 and this is the result from google: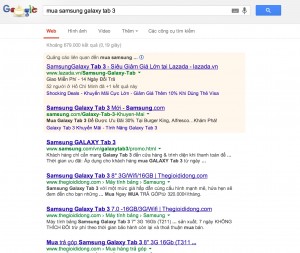 As you could see. There is a huge difference between the two. Wada's organic results are questionable and there is no Lazada presence at all.
On Google, Lazada is not on the top organic position but they position nicely on the Paid Search portion with a big promotional campaign. This looks quite attractive to me.
If I were Lazada CEO, I would ask Wada.vn to show me some "love" when it comes to e-commerce (transactional queries) on the platform.
5. Location function on smartphone
Since location is something that Wada stressed quite a bit in the event, I gave it a try and below is the screenshot for "ATM" near my current location: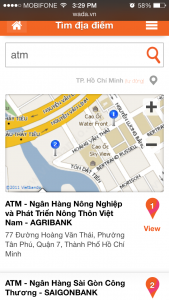 and "restaurant near by" result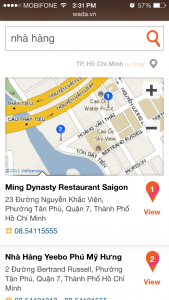 FYI: I am at "Coffee Bean and Tea Leaf" at Cresent Mall, District 7 when I capture these screenshots.
For strategic reason I assume, Wada uses Vietbando map data, which in my opinion is not ideal. The data is old, and not accurate. I can't even zoom in, or out correctly, or view listing number 3 or 4 in the list on the map even if I want to and click on them. I don't even see where I am on the map.
There is no "direction function" with Vietbando. I know Maps is hard, even Apple doesn't get it right.
The below is the result from Google Map, using on iOS, web version of course.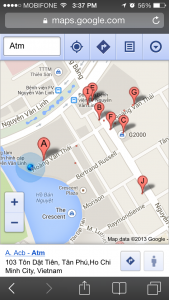 6. Wada store on mobile
From Wada.vn mobile homepage, I click on Wada store and this is what I am presented with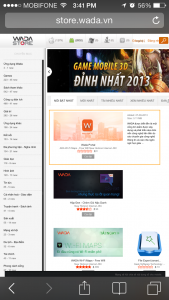 It is quite hard to understand what it is by looking at this really. From the name I guess it is a place that has mobile app that you could download.
I try my best and click on the biggest thing I could see on the screen "Wada Portal" and this is what I see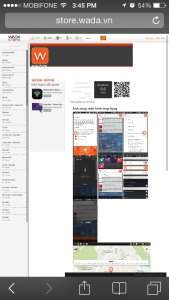 Again very hard to make out what it is. I tried to zoom in but it's blurry and to be honest couldn't figure it out by reading text in white font color on a white background. I give up at this step because even if I want to try, I couldn't find the install button somewhere.
Did I do something wrong?
There are other functions that Wada introduced in the event of course. Some of them are to attract advertisers and agencies as well. Functions like location based targeting, contextual targeting, rich media, frequency capping etc…
I am sure media planning people would be quite familiar with these concepts from other ad networks like Google Display Network (desktop and mobile), Innity, Ambient, Admax, Novanets etc…
It has been quite long already so I will stop here. I could go on and review other functions but I guess by now you understand my methodology and could do the rest of the review yourself if you want to.
Again do share your feedback below!
Cheers,
Chandler