Now that COVID 19 has been in more than 200 countries and territories, the world (especially the developing countries) needs practical, pragmatic and transferrable learnings. So far, across major global news networks, every time journalists talk about lessons learned, they often talk about lessons from Hong Kong, Singapore, Taiwan, South Korea, etc… and not much if at all from Vietnam. I don't know the reason why and I don't want to speculate. As a whole, I think Vietnam has done a good job (so far) in her fight against COVID 19, despite the painful economic impact. Vietnam's economic/social and health care system is quite similar to many other developing countries so there are learnings that can be shared here.
Disclaimer: I am not an infectious disease expert and I am from Vietnam. I have been living in Singapore for a long time (more than 15 years) but still a Vietnamese.
Jun 2020 update: since the time this article was published in early Apr 2020, there have been many more articles from authoritative sources about the initial COVID 19 success in Vietnam. I include some links at the bottom of the article.
One article published late Jun 2020 that I am very impressed with is "Emerging COVID-19 success story: Vietnam's commitment to containment" by a group of authors from Exemplars in Global Health. "Exemplars in Global Health is a coalition of experts, funders, and collaborators around the globe, supported by Gates Ventures and the Bill & Melinda Gates Foundation, who share the belief that rigorously understanding global health successes can help drive better resource allocation, policy, and implementation decisions. The Exemplars in Global Health platform was created to help decision-makers around the world quickly learn how countries have solved major health and human capital challenges."
Below is the original article, published in early Apr 2020.
A populous, developing country, sharing 1400+km of land border with China, with limited health care system, similar to many other developing countries
Yes Vietnam is a developing country and we have a lot of work ahead of us. The GDP per capita is less than $3000/year in 2018-2019 (about $7.5k/year in purchasing power parity PPP term). We have a population of nearly 100 million people. The average number of physicians per 1000 people in Vietnam is 3-4 times lower than Singapore, the US or Italy.
We have about 1,400 km (about 900 miles) of land border between Vietnam and China (the previous epicenter of COVID 19). China is the number 2 export market for Vietnam and the number 1 import market. Chinese tourists contribute about 30-40% of all tourists in Vietnam. Net-net, the amount of goods and the number of people crossing between Vietnam and China is huge.
As of Apr 3 2020, Vietnam has less than 300 COVID 19 cases and zero death
Data from W.H.O situation report for 3 Apr is here. Now some of you may ask whether this number is believable, given that Vietnam is a communist country. My answer is that the number is from W.H.O and until there is another global trusted organisation who can provide another report, I will go with W.H.O number.
Also Facebook and other local social network/messenger service (like Zalo) are freely used in Vietnam so I am sure if there are significantly more cases, than the official numbers, we will hear about it.
So what do I think the learnings from Vietnam approach to COVID 19 are?
Treat COVID 19 (or any infectious disease) seriously and Early
Back to the beginning of Jan 2020, when the news about COVID 19 was still limited and not many countries paid attention to it, mainstream Vietnam newspapers started to report on it. Vietnam ministry of health started to organize emergency meetings and conducted news conferences about the virus. I don't include any links from mainstream media here as many of you may not be able to read Vietnamese.
Set up Multi ministry, national task force as this is not just a health issue
The multi ministry task force was set up early (link in Vietnamese) on 30 Jan 2020, under deputy prime minister Vu Duc Dam. While I don't know fully how many ministers are included in the task force, I know it includes:
Two health deputy ministers
The information and communication minister
The foreign affair deputy minister
The finance deputy minister
The labor and social affair deputy minister
The transport deputy minister
The education deputy minister
The Vietnam red cross society vice president
etc.
This is a national task force, with responsibility for the entire country, rather than just Hanoi or Ho Chi Minh or other big cities. Obviously, cities/provinces also set up their own task force but having a national, multi ministry task force will help to ensure that national effort is coordinated and organised.
The task force meets daily and also provide updates via news conference regularly.
A persistent public education, information about the virus
You will see news on national TV channels and news articles every day, everywhere about COVID 19. With a populous country, this is needed, especially in the beginning to make sure that awareness and education reach every single Vietnamese in the country. This is a respiratory disease, easily transmitted, currently without therapeutic measures or vaccine so the whole society will be only safe if everyone follows medical guidelines.
In the early days of the fight against COVID 19, the health ministry in Vietnam sent direct messages to Zalo users, a super popular local messenger app. You can say that this is a bit intrusive but well, in the early days, mass awareness is really important.
Implement aggressive public health measures early
It can be seen as heavy-handed and honestly, some of the measures may turn out to be too conservative, but in a pragmatic way, given a new coronavirus with very limited global information, and a developing country health care system, it is better to be aggressive. The health care system can easily be overwhelmed if we are not careful.
For example, back in the beginning of Feb 2020, when the number of COVID 19 cases in Vietnam was only 10 confirmed cases (with very limited data about kids/teenager being the vectors for transmission and even now low mortality rate amongst younger people), all provinces in Vietnam decided to close schools, across all levels. We are talking about millions of kids/teenagers here so this decision has an enormous impact on people's life and livelihood.
Wearing surgical masks (even reusuable masks) is encouraged for everyone, yes everyone not just people who are sick or show symptoms. Because Vietnam can produce millions of surgical and reusable masks per month, hence this approach can work in Vietnam. Obviously if your country has a very limited stockpile of masks, then your approach needs to be different.
The army is activated to help to disinfect hospital, streets, houses with confirmed cases.
Test, isolate and quarantine as much, as fast as you can
To the extent possible, very early on, Vietnam tried to develop our own test kits, using W.H.O guidelines. This has enabled Vietnam to test more people and somewhat in control of what the country can test. Now you may argue that perhaps more tests should be done. Maybe the answer is yes but you also need to take into consideration the practical availability of test kits, of the lab capacity.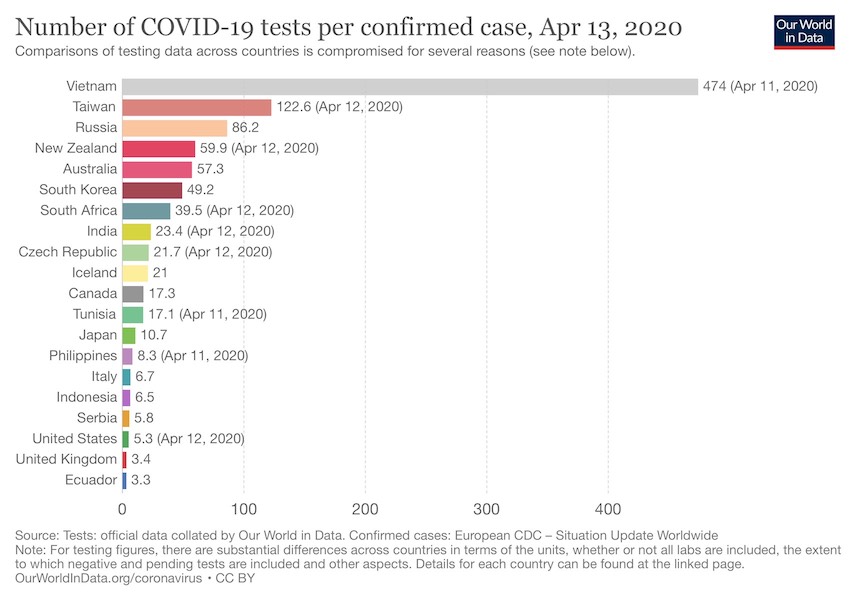 Mass quarantine was implemented for nearly 10,000 people at a province near Hanoi, when 6 confirmed cases were found. You can ask whether this is truly necessary? should Vietnam quarantine fewer people? Well again, this is where local context and being pragmatic can play a critical role. If you don't have a good system that allows for precise contact tracing, to test and isolate infected people, you have to do what you have to do. In a pandemic, it is better to be too conservative than too lax.
Vietnam has implemented very strict border control, health check at all port of entries to the country on land, airports, ports. People coming back from COVID 19 hot spots globally are sent straight to quarantine for at least 14-21 days. For a developing country with very limited resources and basically a completely halted economy, implementing this type of measure costs a lot of money. However, it is needed to be done. People under quarantine don't have to pay anything, are taken care of in terms of basic needs.
There have been many stories, pictures being shared online about how manual workers, army men sleeping outdoor so that the government can have enough housing to quarantine people.
Be transparent, leverage the entire nation, encourage private donation, fight fake news aggressively
So far, the government has been very transparent in its approach. Vietnam is also encouraging every single citizen to practice good virtual hygiene i.e. verify the information and not pass on fake news. Herd mentality is real and extremely dangerous. This is going to be a long fight so being transparent and engaged with ordinary citizens is definitely the right way to go.
That's all from me. Stay safe and stay strong everyone.
Chandler
P.S Since my post, there have been a number of news articles about the COVID 19 success in Vietnam like: