As a foreigner living in Singapore, I am curious to understand what General Election 2020 means for us. I want to answer basic questions like:
Is it getting easier or more difficult to apply for PR in Singapore?
The same question about getting Singapore citizenship
For friends who want to come to Singapore to work, is it easier or harder to get employment passes?
1. The total number of permanent residents (PR) in Singapore peaked in 2010 and has been declining since then

There are only about new 32,000+ PR status granted in Singapore every year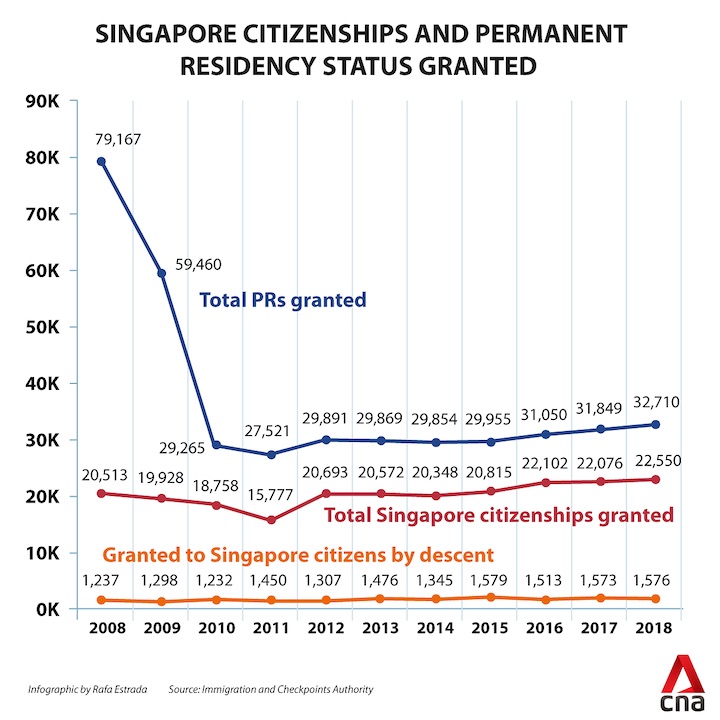 As you can see there was a definite change in policy direction in 2010/ 2011. 2011 was the worst general election result for People Action Party (PAP) in Singapore, with just 60.1% popular vote share and the loss of the first group representation constituency (GRC) ever to an opposition party.
From Channel News Asia, "Of the new PRs, 60.1 percent were from Southeast Asian countries, 31.8 percent from other Asian countries and 8.1 percent from countries outside Asia."
Over 6,700+ new transnational spouses/year might get priority for PR application
This is guess work based on the recent Worker Party 2020 Manifesto. The details are below:
Worker Party did much better than expected in this General Election (GE) and its manifesto is suggested as PAP light by Dr. Balakrishna, there is reason to believe that one can read the manifesto and make some guesses. On page 15 of the manifesto, they said "Given that over 20% of existing marriages are between a Singapore citizen and a foreign spouse, transnational marriages will continue to be an important contributor to family formation in Singapore. Fast-tracking parents of Singaporean children for citizenship would facilitate the formation of stable family units."
From data.gov.sg, the transnational marriage rate was about 35% in 2017. The trend is declining quickly so it is reasonable that the rate in 2019 is 20%+, maybe 25%? The latest number of marriages per year in Singapore in 2018 was 27,000. Then it is reasonable to guess that there are more than 6,700+ new transnational spouses per year in Singapore. This represents 20%+ of the annual new permanent residency status issued.
In short, these points explain why it is getting extremely hard to get PR status in Singapore from 2010 until now for foreign PMETs (professional, managers, executives, and technicians). Of course, there are many other factors, which are not visible to the public.
The same logic applies to Singapore citizenship application.
2. The total population growth rate between 2010 – 2019 in Singapore has reduced significantly in comparison to the 10 or 20 previous years

The total population includes Singaporean, permanent resident, non – resident population.
It may be easier to see the trend line of the total population growth below

From here we can make an educated guess that the government will continue to limit the total population growth. This year general election messages from PAP, WP didn't suggest that this trend will change.
3. The number of non – resident population has steadily increased from 2010 until now

The increase is due to the employment of foreign domestic workers, work permit holders, S pass, or other passes. They may bring with them their families too, under long term visit pass or dependent pass.
4. The number of employment pass holders in Singapore remains stable over the past 9 years but expected to reduce in near term

On average, the number of EP holders has increased by about 2,100/year.
Given that Singapore's economy is projected to contract between 4% – 7%, the government support for hiring Singaporeans (understandably), we should expect that the number of new employment pass issues to be reduced significantly in the coming year.
In fact, this year, the eligibility of EP application was already tightened in May, with the minimum salary requirement raised to SGD $3,900.
Additional comment from Manpower minister Josephine Teo "Foreign workers, she said, also serve as a buffer in uncertain times, when they are the first that employers might choose to shed when business conditions worsen. This is due to initiatives such as the Jobs Support Scheme, which subsidises the wages of local workers and not foreign ones. Foreign employment shrank by 60,000 from January to May this year, she added."