I attended the LinkedIn B2Believe event in San Francisco on November 16. I expect there will be many on-demand videos of the event uploaded to the main site soon. This event came after the Meta Performance marketing summit which was held in September 2022. The two events were very different from each other. Here is my take on the LinkedIn B2Believe event:
B2Believe target the general B2B marketer audience
Although I am not and have never been an organizer for this event, it is obvious that LinkedIn wants to appeal to a more general B2B marketing audience rather than the Meta laser focus on Performance marketing. In saying this, I am in no way insinuating which company or method is right; I simply find it interesting to understand how each platform chooses to position itself in this economic climate.
I was told that this is the first LinkedIn mass offline event in approximately six years.The full agenda is here.
LinkedIn is working to become the main creative platform for B2B brands to build their brand
The LinkedIn team didn't explicitly say this, but it was clear throughout the event that B2B brands need to be more like B2C brands. Many sessions talked about why brand building is important, how to use different B2C tactics and media channels, etc…
While I don't find most of the content new from this angle, I understand that LinkedIn wants to include different data points/studies to substantiate their main advice.
Here are some main data points:
95/5 rule: Only 5% of B2B buyers are actively looking to make a purchase at any given moment,while 95% are not. Marketers must take this into account and treat these groups differently.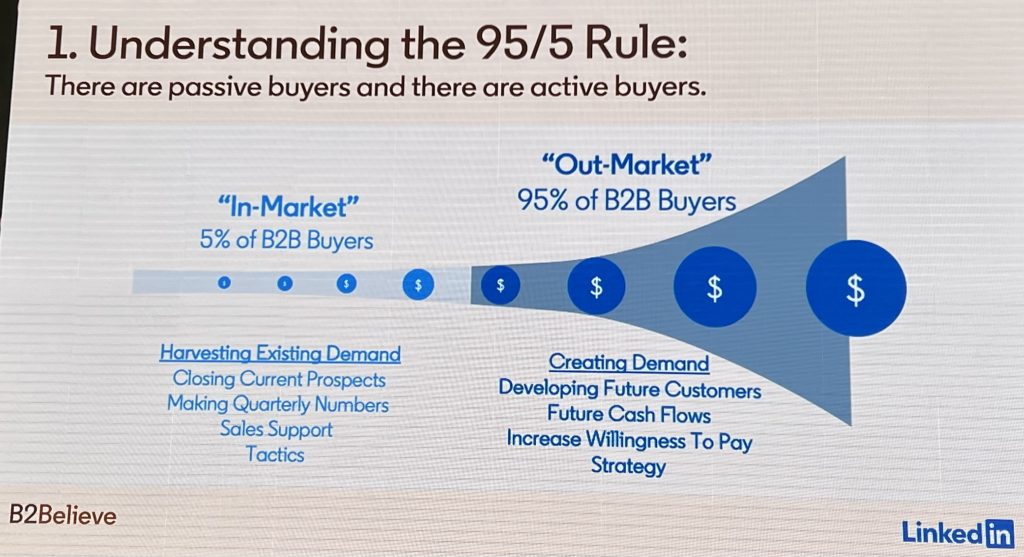 Buyers already know who they will buy from. And since 90% of B2B buyers ultimately buy from their Day One list, it is critical that your brand is part of the Day One consideration set.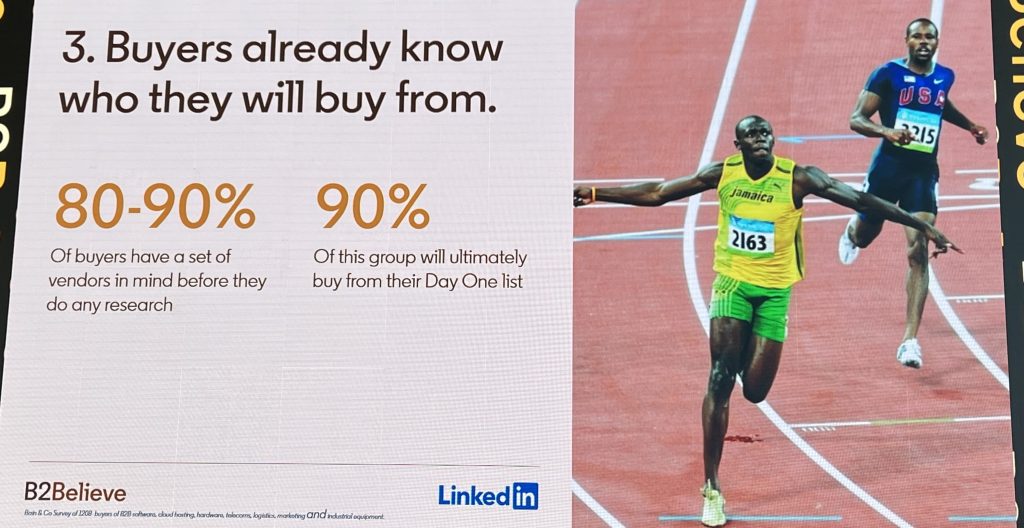 Why did the speaker choose Usain Bolt's picture? It's because it takes him less than 10 seconds to win the gold medal, but an Olympic competitor trains their whole life for a chance at the final round.
The key takeaways seem to cater to big B2B brands vs. newer/smaller B2B brands
Advice and key takeaways typically seem to target large B2B brands with significant budgets, multiple members on their marketing team, rather than niche or newer brands. I'm not saying this is a bad thing, it's just what I've noticed from the existing content.
The following are a few areas which could use improvement:
Some of the sessions, in my opinion, were not as worthwhile as others because I didn't learn much from them.For example,
How to build a breakthrough content strategy: I have seen similar advice many times before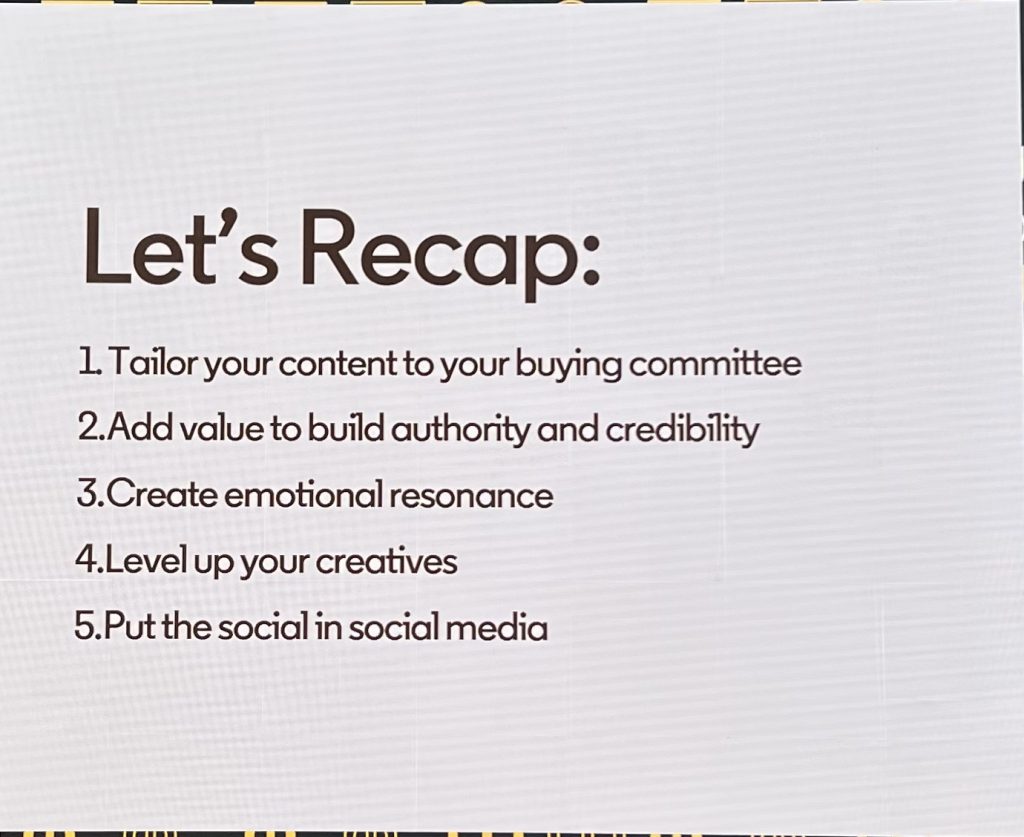 Walk the line: balancing brand and demand in an uncertain market
Make measurement your growth engine
LinkedIn's measurement tool seems to not be as competent as what Meta or Google provides.
I haven't seen substantial content in this area from the LinkedIn product team in comparison to what Meta talked about at their event.
Long breaks were built into the agenda
If I had to hazard a guess, I would say that the organizers want everybody to have lots of chances to socialize and talk with one another, which is perfectly all right by me.
However, the agenda wasn't as tight as other events.
Overall opinion
I enjoyed the event somewhat and learned some valuable information from it. Despite the minor issues such as lack of tight agenda, it was clear that LinkedIn is working hard to position itself as the main platform for B2B marketers. I look forward to seeing how this event evolves over time and what new content they provide.
Thanks for reading my review on the LinkedIn B2Believe event in San Francisco. I hope this information helps you in your decision-making process for attending similar events. Until next time, keep on marketing!
Chandler
Subscribe to Blog via Email