The United States is a diverse country with a rich tapestry of holidays and traditions. As an expat originally from Vietnam, who lived in Singapore for more than 15 years, I've found that experiencing these celebrations has provided unique insights into American culture and helped me feel more connected to my new home. In this article, I'll explore some of the most popular American holidays, share my personal experiences, and offer tips for embracing these festivities as an expat.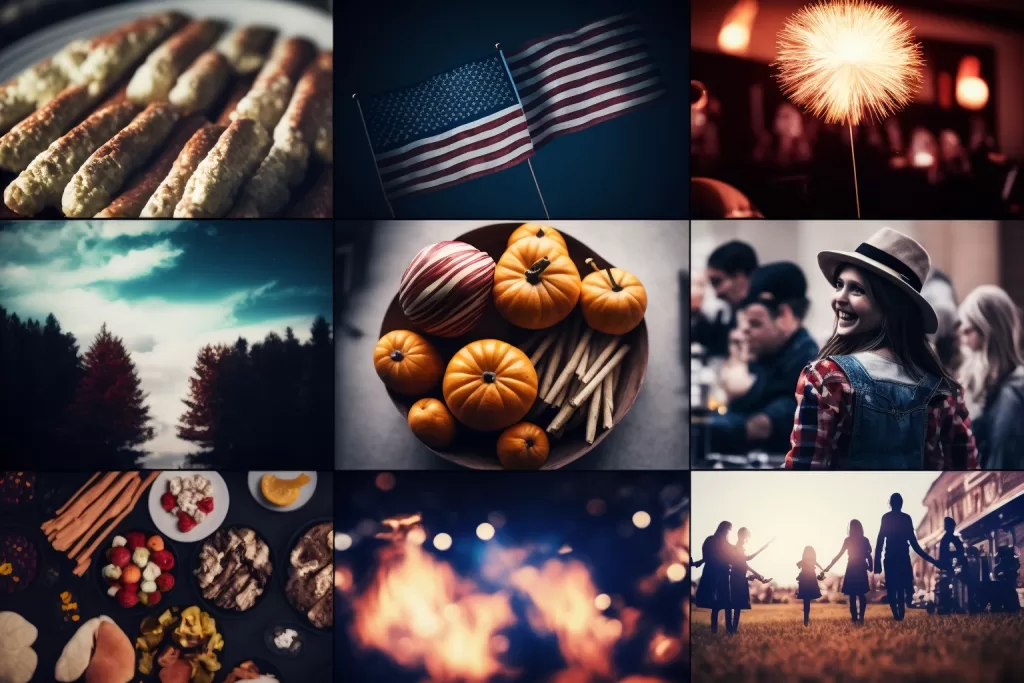 New Year's Day (January 1st)
Traditions: fireworks, parties, and resolutions
Cultural comparisons: In Vietnam and Singapore, we celebrate the lunar new year as the main event, which makes it very different from the US. However, across all countries, the new year is often the time for family gatherings, reflection, and a fresh start. So that is the same between new year in the US and Asia.
Tips for expats: Check out local events or host your own New Year's gathering to fully immerse yourself in the celebrations.
Valentine's Day (February 14th)
Traditions: exchanging cards, gifts, and romantic gestures
Cultural comparisons: In Asia, Valentine's Day is often celebrated with similar gestures, but the emphasis on lavish displays of affection can be more pronounced in the US.
My experience: I was surprised by the sheer volume of heart-shaped decorations and candies that filled store shelves weeks before the holiday.
Tips for expats: Embrace the spirit of Valentine's Day by sending cards or gifts or flowers to loved ones, and consider exploring local events or planning a special meal.
Easter (date varies)
Traditions: Easter egg hunts, family gatherings, and church services
Cultural comparisons: While Easter is not widely celebrated in Vietnam, Good Friday is a public holiday in Singapore so it is a big occasion for Christians. It is surprising to me to learn that good Friday is not a federal public holiday in the US.
My experience: my daughter participating in an Easter egg hunt for the first time was both fun and enlightening, as she learned about the holiday's religious and cultural significance.
Tips for expats: Join a community Easter egg hunt, attend a local church service, or host your own Easter brunch to experience this holiday.
Independence Day (July 4th)
Traditions: fireworks, parades, and patriotic displays
Cultural comparisons: The strong sense of patriotism during Independence Day is reminiscent of National Day in Singapore and Independence day in Vietnam, although the celebrations are marked with a distinct American flair.
My experience: Attending a local parade and fireworks show gave me a deeper appreciation for American history and the pride many Americans feel for their country.
Tips for expats: Attend local events, host a barbecue, and take time to learn about American history to truly understand the significance of Independence Day.
Halloween (October 31st)
Traditions: trick-or-treating, costume parties, and spooky decorations
Cultural comparisons: While not as widely celebrated in Vietnam and Singapore, Halloween's focus on costumes and fun can be likened to the festive atmosphere during the Mid-Autumn Festival. And also we started to see Halloween being celebrated in more larger cities in Vietnam in recent years.
My experience: My daughter's first Halloween in the US was a thrilling adventure as she dressed up and joined a group of trick-or-treaters. They "walked" through the neighborhood a few rounds, visiting each house.
Tips for expats: Embrace the spooky spirit by dressing up, attending a local event or party, and even decorating your home with Halloween-themed items.
Thanksgiving (the fourth Thursday in November)
Traditions: family gatherings, feasting, and expressing gratitude
Cultural comparisons: The emphasis on family and gratitude during Thanksgiving is reminiscent of certain aspects of Tet in Vietnam and the Lunar New Year in Singapore.
My experience: I was invited to a friend's home for Thanksgiving dinner, and I was amazed by the warmth and generosity of my hosts as we shared a delicious feast and gave thanks for our blessings.
Tips for expats: Learn about the history of Thanksgiving and consider attending or hosting a Thanksgiving dinner. Share what you're thankful for with friends and family, and embrace the spirit of gratitude that defines this holiday.
Christmas (December 25th)
Traditions: gift-giving, family gatherings, and festive decorations
Cultural comparisons: Christmas is celebrated in both Vietnam and Singapore, but the scale and intensity of the festivities in the US can be surprising to newcomers. Also, unlike in Asia, many people are taking the entire week between Christmas and new year off as their annual leave/holiday.
My experience: I was enchanted by the twinkling lights, festive music, and the spirit of generosity that filled the air during my first American Christmas. Also, visiting local neighborhoods filled with Christmas light and decoration is great 🙂
Tips for expats: Exchange gifts with friends and family, attend holiday events, and embrace the festive atmosphere by decorating your home. Be prepared for regional variations, as different parts of the country may have unique traditions and events.
Conclusion
Experiencing American holidays as an expat from Vietnam and Singapore has offered me the chance to learn about the customs and traditions that shape America's cultural identity. By participating in these celebrations and embracing the differences and similarities between our cultures, I have gained a deeper understanding of the American way of life and created lasting memories of my time in the United States. I encourage fellow expats to dive into these experiences with open hearts and minds, as they can provide invaluable insights and connections in your new home.
Subscribe to Blog via Email