For expats settling into life in the United States, the obsession with sports can be both bewildering and amusing. From tailgating to fantasy leagues, American sports culture is a world unto itself. Join us as we take a lighthearted and comical exploration of the peculiarities of American sports obsession that might leave newcomers both entertained and perplexed.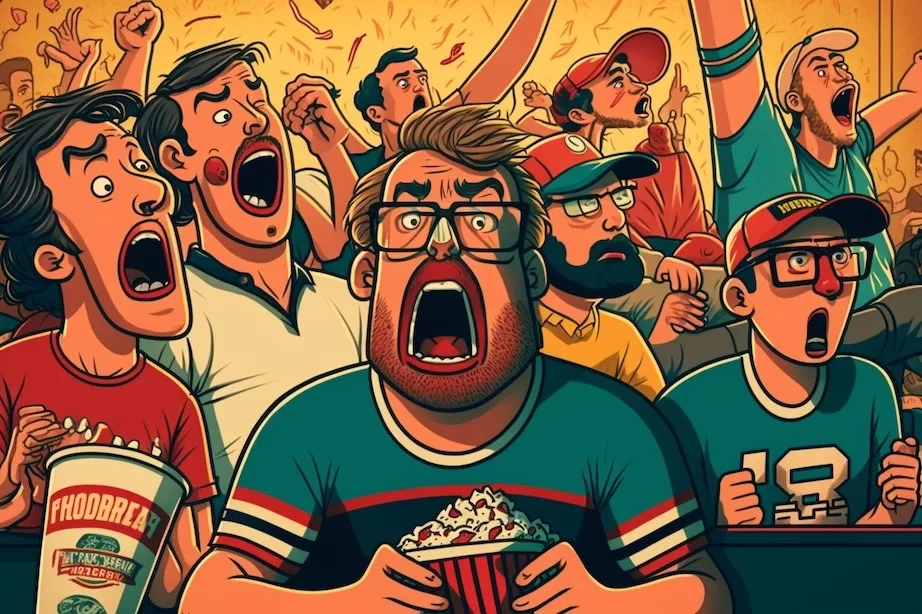 1. The Big Four: A Quick Guide to America's Top Sports
Football (American Football): Not to be confused with soccer, this full-contact sport is king in the United States. With its complex plays, hard hits, and the iconic Super Bowl, it's no wonder Americans go wild for it every fall. Look out for the bizarre tradition of wearing "cheesehead" hats at Green Bay Packers games or the mysterious allure of the "Terrible Towel" waved by Pittsburgh Steelers fans.

Baseball: Known as "America's pastime," baseball is a sport steeped in tradition and nostalgia. From peanuts and Cracker Jacks to extra innings and the World Series, get ready for a long and leisurely game. From "rally squirrels" at St. Louis Cardinals games to the "Curse of the Billy Goat" that haunted the Chicago Cubs for decades, baseball is a sport steeped in superstition and eccentricity.

Basketball: Fast-paced and high-scoring, basketball is beloved by fans who enjoy slam dunks, buzzer-beaters, and the legendary March Madness college tournament. College basketball's "Cameron Crazies" (Duke University) and the NBA's "Splash Brothers" (Golden State Warriors) showcase the range of fan devotion and player stardom in this fast-paced sport.

Hockey: A Canadian import, ice hockey is known for its speed, skill, and occasional on-ice brawls. Bundle up, and don't forget to keep an eye out for flying pucks!
Don't miss the Detroit Red Wings fans' tradition of throwing octopuses onto the ice during playoff games or the lively goal celebrations of the Vegas Golden Knights, complete with pyrotechnics and medieval-themed theatrics.
2. The Art of Tailgating: Turning Sports into a Culinary Extravaganza
What is tailgating? The American ritual of setting up a portable party in the parking lot of a sports stadium before the big game, complete with grilling, drinking, and camaraderie.
Mastering the tailgate: Prepare to be amazed by elaborate setups that include portable grills, inflatable furniture, and even full-service bars, as fans turn parking lots into their personal outdoor living rooms.
Don't forget the food! From barbecue ribs to chili cook-offs, tailgating cuisine is a celebration of American comfort food that will leave you full and satisfied, regardless of the game's outcome.
The Buffalo Bills' "Bills Mafia": Known for their outrageous pregame antics, including jumping through folding tables, this dedicated fan base takes tailgating to the extreme.
The LSU Tigers' "Cajun Tailgating": At Louisiana State University, expect to find mouth-watering gumbo, jambalaya, and crawfish boils that showcase the region's unique culinary flair.
The Green Bay Packers' "Tundra Tailgate Zone": In the frozen heart of Wisconsin, die-hard Packers fans brave frigid temperatures and snow to support their team with hearty grilled brats and warm cheese curds.
3. Fantasy Sports: When the Line Between Reality and Imagination Blurs
The basics: In fantasy sports, participants create their own teams using real-life professional athletes and earn points based on the players' actual performance in games.
The dedication: From draft parties to hours spent researching statistics, American sports fans take fantasy leagues seriously, often investing more time and energy into their imaginary teams than their favorite real-life teams.
The stakes: While some fantasy leagues are purely for fun, others involve cash prizes, trophies, and endless bragging rights, turning casual sports fans into competitive team managers.
Celebrity involvement: Even famous personalities like actor Paul Rudd and comedian Jon Hamm have been known to participate in high-profile fantasy leagues, raising the stakes and adding star power to the mix.
The rise of daily fantasy: Websites like FanDuel and DraftKings have turned fantasy sports into a daily endeavor, offering cash prizes and fueling an even deeper obsession for sports enthusiasts.
4. Unusual Sports Traditions: From Mascots to Rally Caps
Mascots: From anthropomorphized animals to bizarrely costumed humans, mascots are a staple of American sports culture. Prepare for high-fives, dance-offs, and an occasional bewildering encounter with a foam-rubber creature. The Philadelphia Flyers' "Gritty": This googly-eyed, orange-furred mascot has become an internet sensation, turning heads and captivating hearts with his zany antics and offbeat humor.
Rally caps: When a baseball team is trailing late in the game, fans may turn their caps inside out or wear them backward to "rally" the team to victory. It's a quirky tradition that showcases the superstitions and dedication of American sports fans.
The seventh-inning stretch: A long-standing baseball tradition, fans stand and stretch during the middle of the seventh inning, often singing "Take Me Out to the Ball Game." It's a moment of unity and levity during a slow-paced game.
The Chicago Blackhawks' "Shoot the Puck" Contest: During intermissions at hockey games, fans are invited to attempt a nearly impossible shot from center ice into a tiny slot in the goal. The contest has become a favorite spectacle, with occasional appearances by celebrities and local heroes.
5. Conclusion
By exploring the unique traditions, rituals, and quirks of American sports culture, expats can better understand and perhaps even learn to appreciate the passion that drives this curious phenomenon. With a healthy dose of humor and an open mind, newcomers can find themselves immersed in a world of fun, camaraderie, and excitement.
Subscribe to Blog via Email