This is the key issue because both Paid Search (Pay per Click) and SEO (search engine marketing) are not new in Vietnam or Singapore or SouthEast Asia for that matter. However, the use of Search Marketing in Vietnam is still quite limited. For sure it is growing but of course not at the rate that was expected a couple of years ago.
I feel that knowing when to use it is even more important than learning how it works or how to do it because unless you know when you should use something, knowing how to do it is irrelevant.
I will try to answer this question by going through some scenarios:
Scenario 1 Banks want more credit card
You are a bank and you want to have more people signing up for your credit card application. Should you use Paid Search or SEO?
To answer this question, first let's try to understand the demand for financial products/services in Vietnam online.
Google has a dedicated tool that can help us to understand the average monthly search volume from Vietnam for any topic that we are interested in. It's called Google Keyword tool.
You can use it with or without logging in to your Google account (Gmail is fine too since they are the same).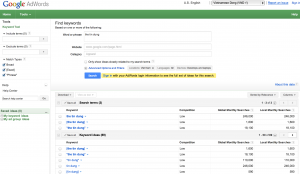 In this example, you can start by putting in phrases like "the tin dung" or "vay mua nha" into the "Word or phrase" box as highlighted in the picture above.
Under "Advanced Options and Filters" select the following:

Location: Vietnam
Language: All languages
Show ideas and statistics for: you have the options to see the search volume on desktop and laptop devices only or on mobile devices.
Filter ideas: leave it blank first
The result shows that for the topic "the tin dung" (credit card), there are on average 246,000 searches per month in Vietnam.
About 1,600 times people search for the exact phrase "the tin dung" and 18,100 times people search for phrases with "the tin dung" in it. It could be: "dang ky the tin dung" (which means apply for credit card), or "the tin dung hsbc"
To show the exact and phrase results, check the boxes on the right hand side under "Match type"
If you are not sure what keyword match type means, here is the guide from Google themselves:
Broad: The sum of the search volumes for the keyword, related grammatical forms, synonyms, and related words. So people could search for "the tin dung hsbc" (credit card HSBC), "the tin dung platinum", "dang ky the tin dung" and they are all counted towards the broad search volume for "the tin dung"
Exact: The search volume for that specific keyword and close variants
Phrase: The sum of search volumes that include the whole phrase or near variants of the whole phrase
If you sign in with your Adwords account, you should be able to see more keyword ideas and information about them like search trend for each keyword.
Similarly you could use this tool to understand the search volume for any other topics, keywords in any markets that Google offers. This is a great way of knowing how many people are interested in a certain product/service and actively looking for more information about it.
Back to our scenario, if you are marketing manager of a bank and you know that there are a lot of people looking for information about "the tin dung" (credit card) on Google every month (about 240,000 searches), not targeting these people is kind of waste. Because while they are searching for more information about anything related to credit card, they either find your bank offers or they find someone else.
For example, this is the screenshot for me when I search for "the tin dung platinum" (platinum credit card)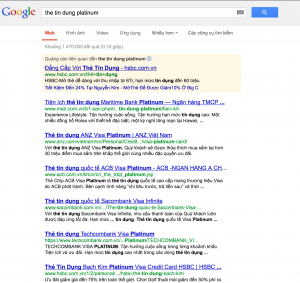 The search volume shown under local monthly searches column is the monthly average taking the data from the last 12 months so it is not the search volume for last month and it will not be the search volume when you start your campaign especially if you are in categories like Whisky that is often used for gift during Tet holidays or similar products. To understand the seasonal factor, you need to use Google Trends.
Google Trends show a rather steady search volume over the past 12 months. The big drop was during Tet holiday (Feb 2012) in Vietnam.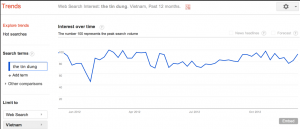 In short, I would recommend an evergreen campaign for Paid Search and at the same time invest in SEO.
Evergreen Paid Search targeting generic terms related to credit card, credit card application and seasonal/promotion based tactical campaigns targeting specific type of card, name of the card etc…would be ideal. Even though the campaign is running 24/7, the beauty of Paid Search is that your ads ONLY appear if people search for the keywords that you choose i.e. they are looking for credit card information and you are only charged when they like what you offer and click on the ads. Should you stop the ads for certain days of the week, i would say no if you have enough budget because this is on demand marketing.
As for SEO, for finance industry I think it should be done for all because over time it will help you drive a good level of quality prospective customers, defend your brand and so forth.
Scenario 2 Product launch (non FMCG)
You are going to launch a new product (non Fast Moving Consumer Good type) and it's going to be a massive campaign with TVC, Print, Online Banners, fancy Events, PR news.
Should you use Paid Search or SEO?
Well I would assume that since you are using Online Banners, you have a website/microsite ready.
There are a couple of things you should do in my opinion:
Have your landing page (the page with information about the new product) checked to see if it is SEO friendly. This is to make sure that when you launch the new page, Google will understand it and index it properly. If you have time, go for other on page techniques like internal linking etc… to make sure that when you launch the product and people search for the brand name on Google, they could find your page. This is crucial!
I would even encourage you target brand terms and all related terms of your products using Paid Search.
What could be worse than spending massive amount of money to launch a product to let people aware, know about your product and when they are curious, search for it online, they couldn't find any relevant/official information???
I come across this problem time and again in Vietnam and it is a painful situation. Believe me if your launch campaign is successful, people will search for the new product/service online using brand terms or other related terms (your key message?)
Use Google keyword tool to understand if people are searching for your product/service online. I am talking about generic, category terms, not necessary your brand. If they are, I would go with a full Paid Search campaign, not only covering brand terms for the new product but also generic category terms as well, product benefits terms etc…
You don't have to run the Paid Search campaign for a long period of time if you are unsure and this is the first time that you try, just make sure the campaign is live during the product launch period.
Optimize your PR article to make sure they are SEO friendly as well. I am talking about online PR articles, not offline. If the article is optimized well, not only its lifecycle can be longer since people may be able to find it on Google when they search for your new product, but it will help you later for online brand reputation management also.
If the product is a key product, and there are people searching for your category on Google, it's best to spend some efforts/money with SEO for longer term as well.
How much money you want to spend for SEO depends on search volume, users' behavior for your category and of course your own budget.
Scenario 3 Product launch (FMCG)
You are the marketing manager of a FMCG brand (Fast Moving Consumer Good) like green tea or milk or toothpaste or the like and you are going to have a 3 month campaigns with a microsite, some online games/competition, social media strategy, some online banners and of course a massive offline campaign.
Should you use Paid Search or SEO?
Well there are many variables in this case and while FMCG categories are not generally searched for online but you need to make sure that at least if people search for your campaign name on Google, either by Paid Search or SEO, you have to be there, ideally on the top left hand side. The same goes with your key message, your slogan even.
Do not assume that when people search for your campaign brand name, your dedicated microsite would show up at position 1 for natural search results. More often than not, these microsites are made of Flash and Google has a hard time understanding Flash. Almost all production agencies in Vietnam, for this kind of campaign, they do not make your Flash Microsite SEO friendly at all. They may say that they do but it's not happening due to expertise issue, lack of client's request issue, time issue etc… So when you search for your campaign name, a very high chance that you do not find your microsite on page 1.
More over, even with HTML microsite production agencies may not make it SEO friendly for brand terms as well. It's very common and i have seen it time after time.
Traditionally in Vietnam, FMCG companies would run campaigns for 3 months and then moving on to the next. Many times they have the campaign microsites shutdown after 3 months. In my humble opinion, it is a waste to do it that way. I think if won't take much effort (money) to maintain the microsite/website at the minimum level after the campaign because if your campaign is successful, you want people to be able to look at it again, read it again when they want to even after it ends. Also it will help in your long term reputation management as well because you would have one extra property online when people search for your brand.
Hence, even for a 3 month microsite, I would still recommend SEO beyond some basic onsite and offsite work to make sure that the microsite is found using brand terms + campaign key message + some key products/concepts. The rest should be the responsibility of Paid Search if you want to have more traffic from Search Engine. Again this is different from one sub category to the next and it depends on each campaign as well.
What you need to ask yourselves is that whether your microsite offers any values to users when they search for something? If user has a particular information need, is the content on your microsite enough to make user satisfied and not bouncing back to the search result page after visiting your site? And of course do check the search volume.
Just remember, your goal is not just to get visitors to your site through search engine, your goal should be whatever the business objectives of the campaign that you are running so for that to happens there must be a relevancy factor between the keywords that you plan to use, the landing page content and your overall campaign.
Now over to you, do you agree or disagree with the above?
What scenario do you want us to discuss next?
How about a big year-end party in one of the hottest location in town? During a PR crisis?
Should you use PPC (Paid Search) or SEO?