Hi everyone,
Given that many people continue to find my site when they want to understand about search engine market share in APAC countries like South Korea, Japan, China etc, I am updating this topic with the latest information in 2019.
1. Search engine market share in South Korea
Data is from Nielsen KoreanClick 2018. There are three main search engines in South Korea: Naver, Google, and Daum. Naver and Daum are actually portals with lots of news, information, and services so people go there for lots of reasons, not just to search for information. Hence, comparison between Naver, Google, Daum directly from a search market share POV using unique visitors may not be "ideal". However, that is the best that we can do at the moment.
As you can see, Google is trailing behind Naver, the largest search engine in South Korea. However, given that smartphone is already ubiquitous on South Korea and Google is the default search engine on Chrome for Android, it is reasonable to expect Google's search market share for mobile continues to rise in the years to come.
It is interesting to note that 10 years ago, in 2009, Google search market share in Korea is less than 10%. Naver at that time had more than 60% share of the market.
2. Search engine market share in Japan
Back in 2009, Yahoo JP had more than 50% of the search engine market share. But now, 10 years later, Google is at about 75% across both desktop and mobile search.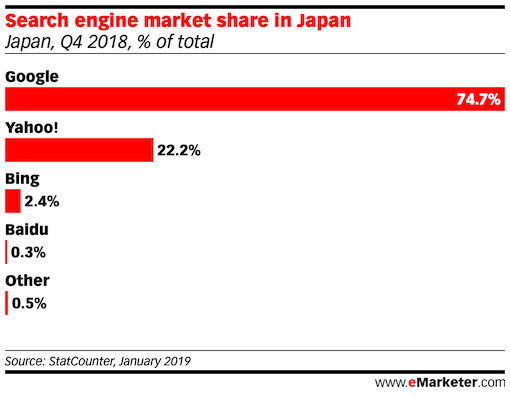 3. Search engine market share in China
Across desktop, laptop and mobile devices, Baidu continues its lead with close to 70% of the market share.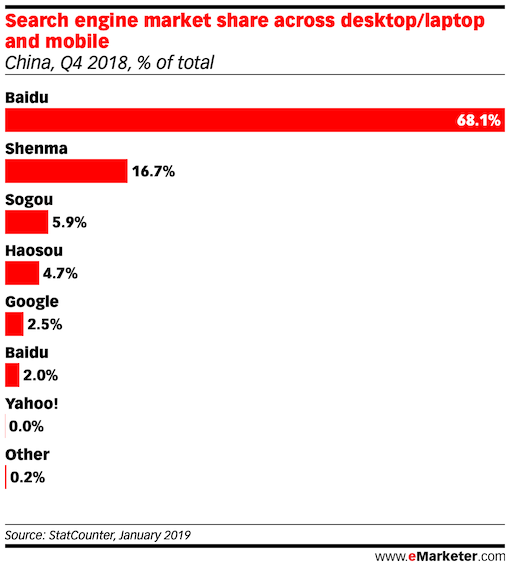 Search ad spending in China is expected to be more than $50B in 2023 from about $30B in 2019.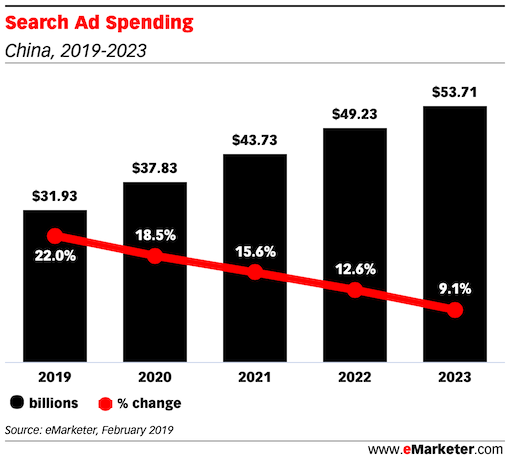 4. Google has the lion share of the search engine market share in the rest of APAC markets
It is quite a simple story in the rest of Asia markets, Google has more than 85%-90% of the market. Nothing has changed since my 2016 post.
Search engine market share in Taiwan
Google continues to have close to 90% of the search market share across desktop and mobile.
Source: StatCounter Global Stats – Search Engine Market Share
Vietnam: some readers ask me about Coc coc in Vietnam. It is true that Coc coc has a decent market share in browser. It is actually built based on the open source Chromium project. From a search engine market share POV, given that Google is the default engine on Chrome, Safari (including on iOS), Google has more than 90% share in Vietnam.
Thanks,
Chandler