Let me start this post by telling you a bit about myself. I am a game/Esport enthusiast. I used to play Starcraft I ( a real-time strategy game) so much that I helped to organize and participate in a game competition in university. We trained as a team hard for it, almost every day for at least 4-5 hours. That was the first-ever video game competition at my university, and everyone was thrilled. Nowadays, I have moved on to watch other gamers play on the internet. I often watch about 8 – 10 hours per week of professionals playing Starcraft II in GSL or WCS leagues. It is a form of entertainment for me. Watching Esport to me is the same as watching sport. I cheer for individual teams, players. I like some casters more than others.
For the rest of post, I will share some key stats about why advertisers should get into games and Esports.
1. There are 2.5 billion gamers in the world in 2019
According to Newzoo 2019 global game market report, there are now a total of more than 2.5 billion gamers in the world. You may ask how it can be that big? Well, this number includes gamer and those who like to watch other people playing games (like me) as well.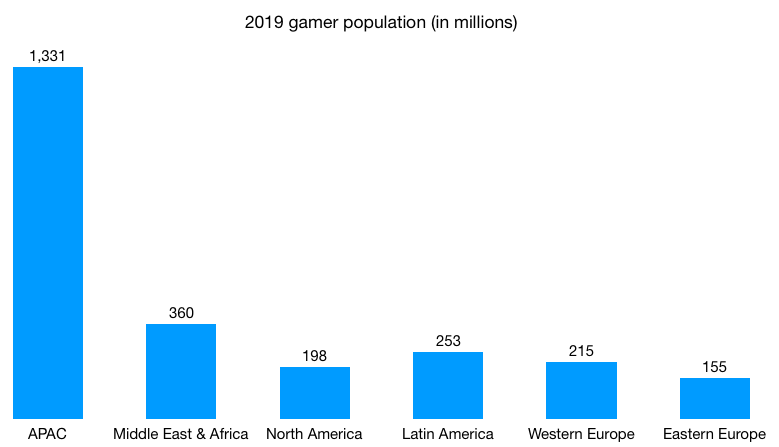 2. Gaming generates more revenue than OTT video, global music, radio or podcast
The graph below uses data from Newzoo 2019 report, PWC global entertainment and media outlook report with the projection for 2019 revenue.
Out of the entire global entertainment and media revenue, gaming contributes about 6.9% in 2019.
According to the same report, Esports is the "fastest-growing area of the video games market, set to cross the US $1B threshold in 2020″.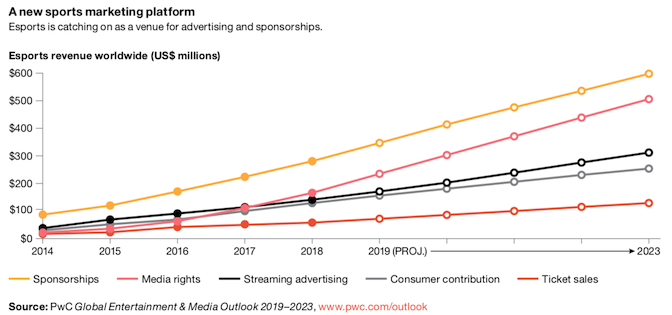 3. The worldwide esports audience is 1/3rd of the worldwide Premier league audience
According to the same Newzoo report (link above) and Premier League broadcast report, esports audience will reach 443 million in 2019 or 1/3rd of the 1.35 billion people for the Premier League. This is impressive for esports, given that the League is the most popular league in the world.
4. Women account for 46% of all game enthusiasts
If you think that gamers are all male or majority male, you are right bu only for the "ultimate gamer" persona ("Gaming is in my DNA! There are a few things I love more. I spend my free time and money on games".)
36% of all female enthusiasts are "Time Filler", people who play games, typically on mobile, to pass the time. This also means that there are more than half of all female enthusiasts who are playing games, watching esports because they like it.
For other insights about gamer segmentation, check out Newzoo report here. They went beyond the typical casual gamer vs. hardcore gamer segmentation.
5. Sought after demographic
According to Newzoo (again), "39% of Esports Enthusiasts are between the ages of 21 and 35, and 43% have a high household income." This is the sought after audiences for advertisers in many categories.
6. Esports league sponsorship is filling up
Across five major esports league in the world (like League of Legends Championship Series, League of Legends Pro League – China, Overwatch League, etc.), there are more than 30 brands who sponsor.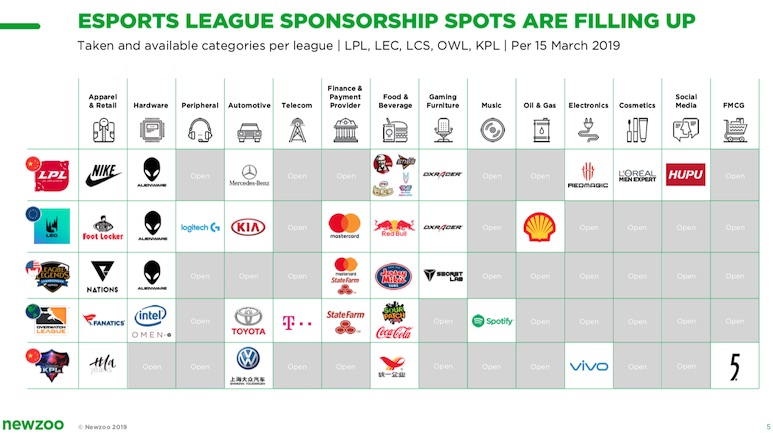 7. Go beyond the traditional formats
As a gamer enthusiast myself (who is watching video games about 14 hours/week), my recommendation for advertisers is to go beyond the traditional formats. We have passionate gamer communities, who appreciate help/"contributions" brands make to help them to build the community, nurture individual teams, build the league. Don't just blast commercials about your products during live streaming or competitions.
8. Fortnight World Cup generated more than 81 million hours of Live viewership across Twitch and YouTube
It shows enormous interest and passion from the community! Just to put this into context, the 2019 Super Bowl was watched by about 98.2 million people.
That's all from me for today.
Cheers,
Chandler