This post is the updated version of the 2019 post on the same topic of the Singapore media landscape. You may be surprised to learn that:
Singapore's GDP per capita (in PPP term) is 60% higher than Hong Kong or the US.
Singapore's e-commerce is not as well developed as China, South Korea, and some other markets.
Singapore is still an offline heavy market.
There are many other facts below and I hope you enjoy them.
1. Singapore GDP per capita (purchasing power parity, PPP, term) is 60% higher than the US, Hong Kong and 5 times that of China
Data from World Bank here. I like to use the purchasing power parity numbers because they take into consideration the cost of living. It makes it more meaningful for residents.
I know that GDP per capita (PPP) in Singapore is high but I didn't know that it is 60% higher than the US or Hong Kong.
Singapore has a tiny population though. The total number of Singapore residents is about four million Only in 2019 (including 3.5 million Singaporeans and 500k permanent residents). For context, Hong Kong's population is about 7.5 million.
2. Singapore smartphone penetration is highest in the world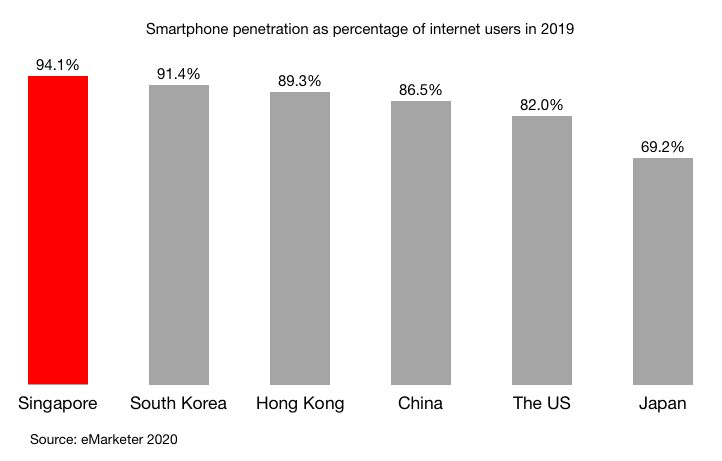 I use available data from eMarketer across all countries that eMarkter tracks for Smartphone penetration.
3. Singapore average 4G download speed is nearly double that of Hong Kong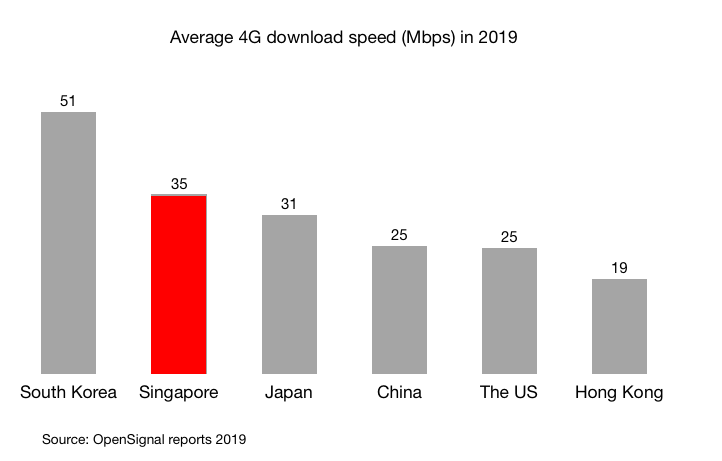 You can read more from OpenSignal about Singapore. It is surprising to see Hong Kong 4G download to be so slow in comparison to other advanced countries.
For China, data is from the February 2019 Broadband Development Association "Q4 2018 Broadband Development Report." China's average 4G download speed in 2018 was 22.05 Mbps. From the same report, between 2018 and 2017, the average 4G download speed improved by more than 20%. So I estimated conservatively that the 2019 average speed was about 15% higher than in 2018.
4. Surprisingly, Singapore e-commerce is not that developed in comparison to China, South Korea, the US or Japan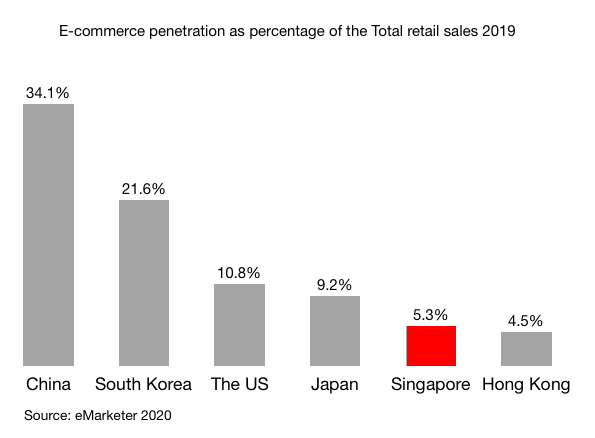 From a growth rate point of view, Singapore's e-commerce growth rate is still much lower than the world average.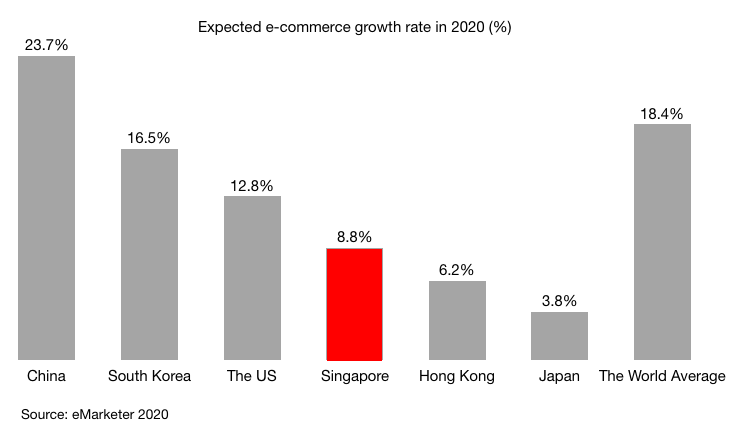 One possible reason is perhaps the size of Singapore is too small so people don't mind buying what they need offline.
As expected, the majority of Singapore e-commerce happens on mobile devices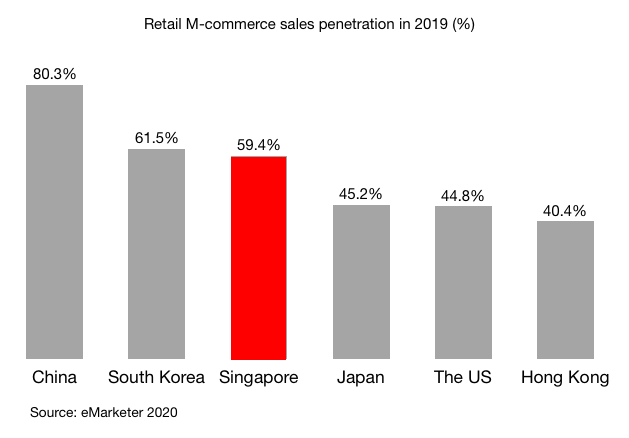 5. Mobile payment penetration in Singapore is growing quickly in comparison with other countries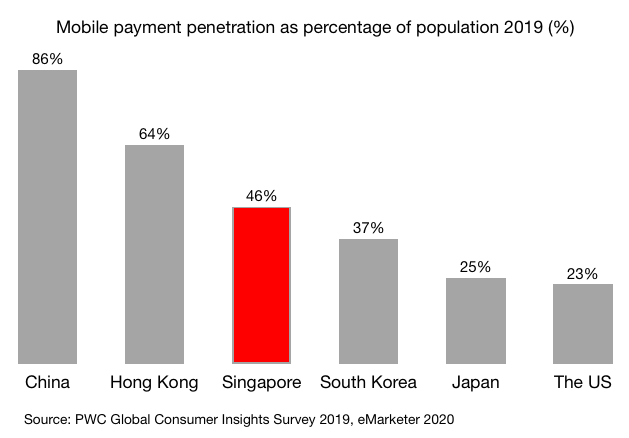 From the same PWC report, mobile payment penetration in Singapore increased by 12% from 34% in 2018 to 46% in 2019. The biggest growth for 2019 came from Vietnam and the Middle East with 24% and 20% increase respectively.
6. Total media ad spending in APAC is expected to be flat in the next 4-5 years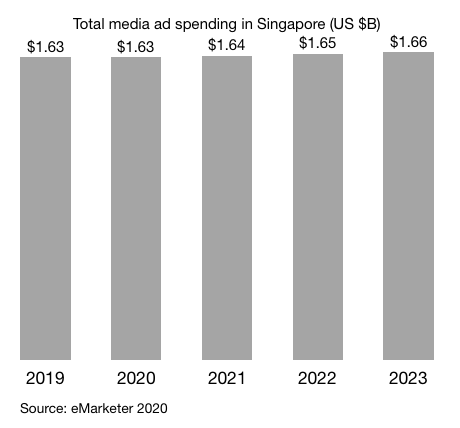 This reflects the expected economic growth in Singapore in the next few years too. It is definitely not good news for the local firms whose revenue depends on ad dollar.
7. Total ad spending per person in Singapore is less than US $1/day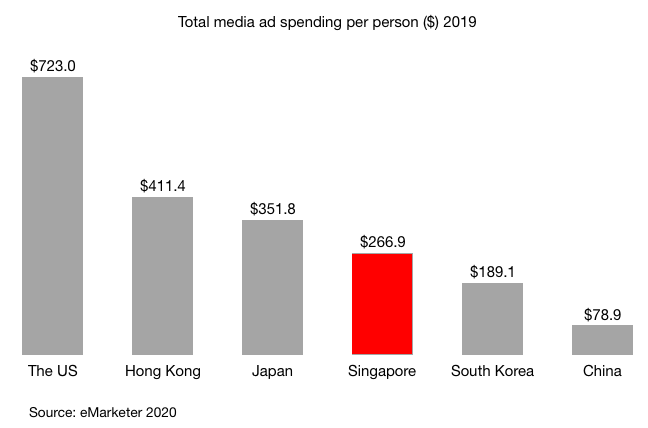 Ad spending per person is reducing marginally over the next few years in Singapore as the total ad spending is expected to be flat and the Singapore population is increasing slightly.
8. Singapore is still an offline market from the advertising spending point of view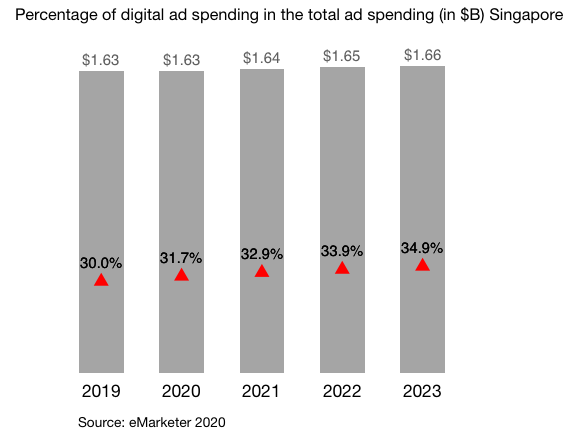 That's all from me.
Thanks,
Chandler