Vietnam has done an excellent job thus far when it comes to the Covid-19 pandemic. A country of more than 97 million people, a direct land border with China, Vietnam implemented quick, decisive border closure, testing, contact tracing, isolation, and quarantining. The social unity, comprehensive public awareness campaign, and government transparency in dealing with the crisis are critical ingredients for success too.
But it is far from over.
Like the global economy, Vietnam is now struggling to contain the economic fallout from the pandemic. Given the recent global interest in the Vietnam economy, especially regarding its potential as a factory relocation from China, I write this post to include some key figures, facts. I try to use third party, English sources so that you can verify the numbers. Yet, some numbers are from Vietnamese sources as they are not available elsewhere.
1. Vietnam economy is expected to grow by 2.7% in 2020, according to IMF
IMF includes the 2021 forecast as well but given the uncertainty around COVID 19, I choose not to include the numbers here.
2.7% real GDP growth for Vietnam is much lower than 2019 growth of 7%. However, this is still much better than many of other South East Asia countries and the world average.
Q2 2020 Vietnam economy grew by 0.36% year on year (H1 expansion of 1.81% year on year). This was unexpected given the COVID 19 lockdown. However, it shows that V shape recovery is possible when COVID 19 is contained early.
2. Three key drivers of growth for Vietnam economy in 2020: investment, export and domestic consumption
This is according to Vietnam prime minister Nguyen Xuan Phuc in a national meeting recently on 2 Jul. (Vietnamese source is here).
The government sets up delegations to inspect public investment disbursement.
Foreign direct investment in Vietnam achieved $15.67 billion in H1 2020, down 15% year on year
The 15% drop is still considered good, given the global pandemic context. Singapore contributed 34% of the FDI with $5.44 billion, followed by Thailand with 10% and China with 10%.
3. Vietnam Ease of Doing Business ranking is 70 out of 190 countries, ranks 8th in East Asia and Pacific
According to the World Bank Ease of doing business report, Vietnam ranks higher than Indonesia, the Philippines, lagging behind Malaysia, Thailand in 2020. This is an improvement from the ranking of 99th in 2014. This suggests to me that while there has been an improvement, more work needs to be done in Vietnam in this area.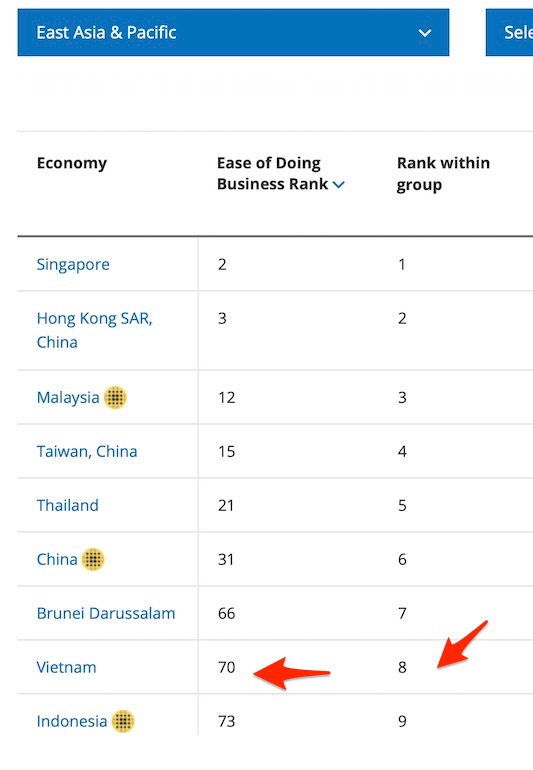 4. Since joining WTO in 2007, Vietnam has signed a number of important trade deals with key partners
Japan-Viet Nam Economic Partnership Agreement in 2009
Comprehensive and Progressive Agreement for Trans-Pacific Partnership ("CPTPP") in 2018 between 11 countries: Australia, Brunei Darussalam, Canada, Chile, Japan, Malaysia, Mexico, New Zealand, Peru, Singapore and Vietnam
The EU – Viet Nam Free Trade Agreement (EVFTA) in 2019
5. Vietnam export and import have been rising quickly over the past 10 years
Export has risen by more than 4 times since 2009 – 2019
Import has risen by more than 3 times since 2009 – 2019
According to Vietnamese Custom, in H1 2020, total trade hit $240.1 billion, (-1.4% vs the same time last year). Export increased by 0.2% to $122.79 billion and import reduced 2.9% to $117.3 billion. (source article in Vietnamese here)
6. Vietnam emerging middle class is about 13% of the total population (or about 12 million people)
Vietnam's population is about 97 million. According to the World Bank, the emerging middle class is about 13% and is projected to increase to 26% by 2026. The middle class represents increasing purchasing power, especially in the domestic market.
7. 58% of the population is in the labor force.
8. 30 million jobs in Vietnam affected by COVID 19
According to the General Statistics Office (via Nhan Dan Online newspaper), 57% of affected workers have their income cut. "Workers in the services sector suffered the most, followed by industry-construction and farming."
and from the same article on Nhan Dan Online: "The coronavirus pandemic has caused Vietnam's unemployment rate to hit a ten-year high, with the majority of jobs losses reported being among low-skilled and unskilled workers."
"Economists have stated that the first half of 2020 was not yet the peak of job losses because enterprises were still fulfilling orders from last year. Labour-intensive sectors are expected to suffer a serious blow in the third quarter as there have been no orders for manufacturing in the final months of the year, and workers' jobs and incomes will largely rely on the resilience of their enterprises."
9. Vietnam Human Capital Index is the highest amongst the middle-income countries
The Human Capital Index (HCI) provides a bird's-eye view of each country's level of human capital.
Vietnam HCI ranks 2nd in South East Asia (below Singapore) and 48th in the world. This is definitely a good sign for Vietnam's continued growth in the future.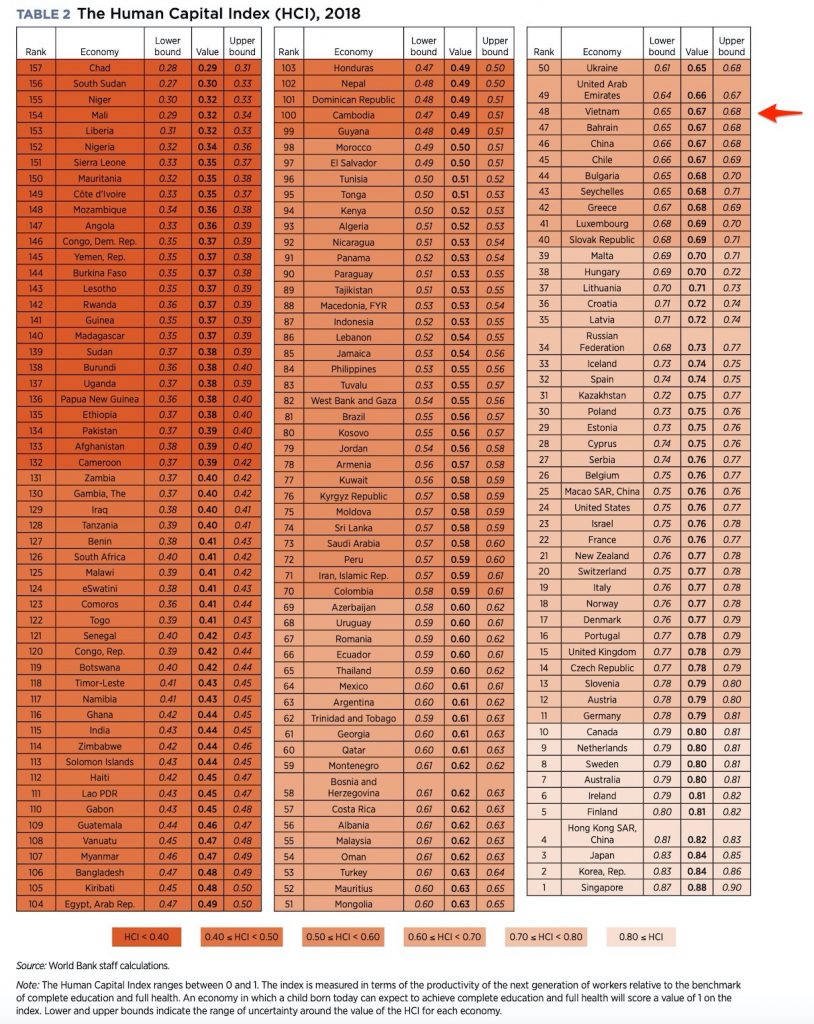 10. Vietnam logistics performance index ranking is higher than Indonesia, Malaysia and Philippines, lower than Singapore, Thailand.
Logistics Performance Index is a project by the World Bank. The 2018 Logistics Performance Index (LPI) scores countries on how efficiently they move goods across and within borders. I include this data point because logistics plays a critical role in economic growth.
The global ranking table is here.
Singapore: #7
Thailand: #32
Vietnam: #39
Malaysia: #41
Indonesia: #46
Philippines: #60
11. Vietnam ranks #67 in the Global Competitiveness Index
Global Competitiveness Report (by World Economic Forum) provides an annual assessment of the drivers of productivity and long-term economic growth.
Vietnam ranking is lower than Malaysia (#27), Thailand (#40), Indonesia (#50), Philippines (#64), higher than India (#68). Vietnam ranking has improved the most (by 10) in the world between 2018 – 2019.
The full global competitiveness ranking report is here.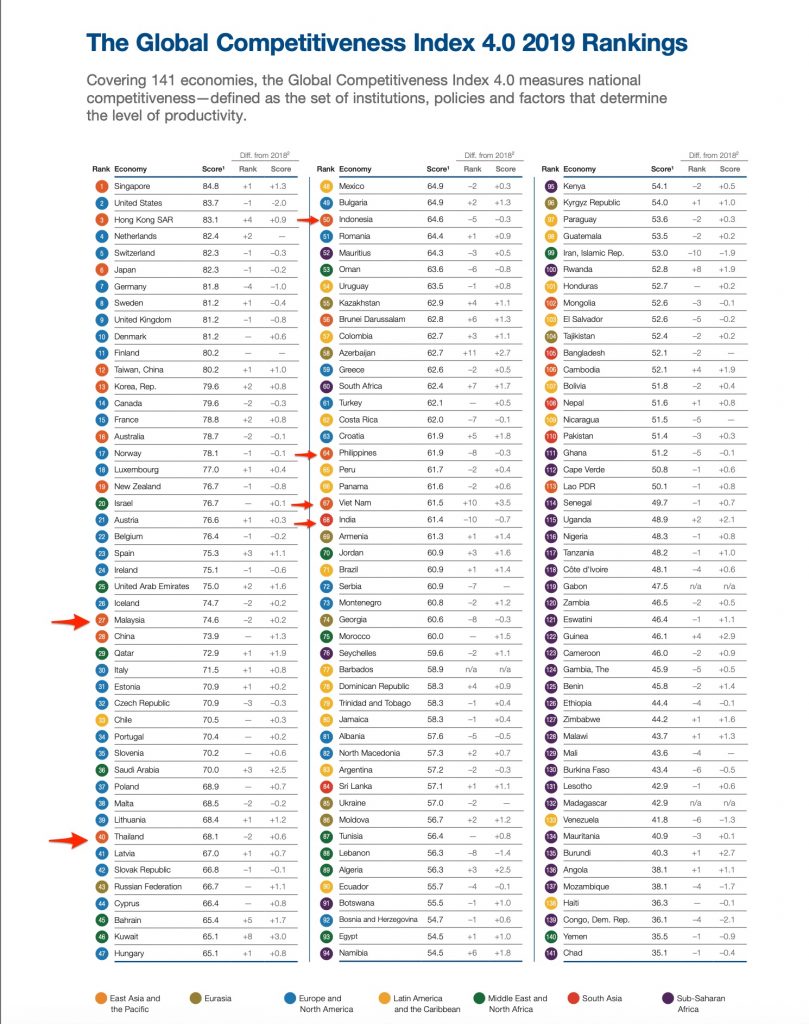 I purposely avoid making any conclusions given that I am Vietnamese. I hope that the above facts help you to have an informed opinion and make necessary decisions.
That's all from me for today. Feel free to leave your comments below.
Chandler.