When I first moved to the United States, I was excited about buying my first car. I had heard that the process was slightly different here than in my home country, but I wasn't sure what to expect. Buying a car is always a big decision, and as an expat, there were some things I needed to keep in mind. Here are some tips for anyone who is thinking about buying their first car in the US.
What make and model of car best fits your needs?
The most important thing to consider when buying your first car in the US is finding one that fits your budget and lifestyle. Think about what kind of car will serve you best for commuting, grocery shopping, weekend road trips, etc.
I always consult Edmunds and Kelley blue book when I'm car shopping because they both have detailed reviews, test drive videos, and other resources. Plus, with gas being so expensive in the US right now, fuel efficiency is a priority for me.
I have no experience with cars in the United States, so I find the best car rankings on Edmunds helpful. These lists allow me to understand what is popular among Americans for different categories, such as SUVs, sedans, and hatchbacks. Additionally, it provides explanations for why these vehicles are liked.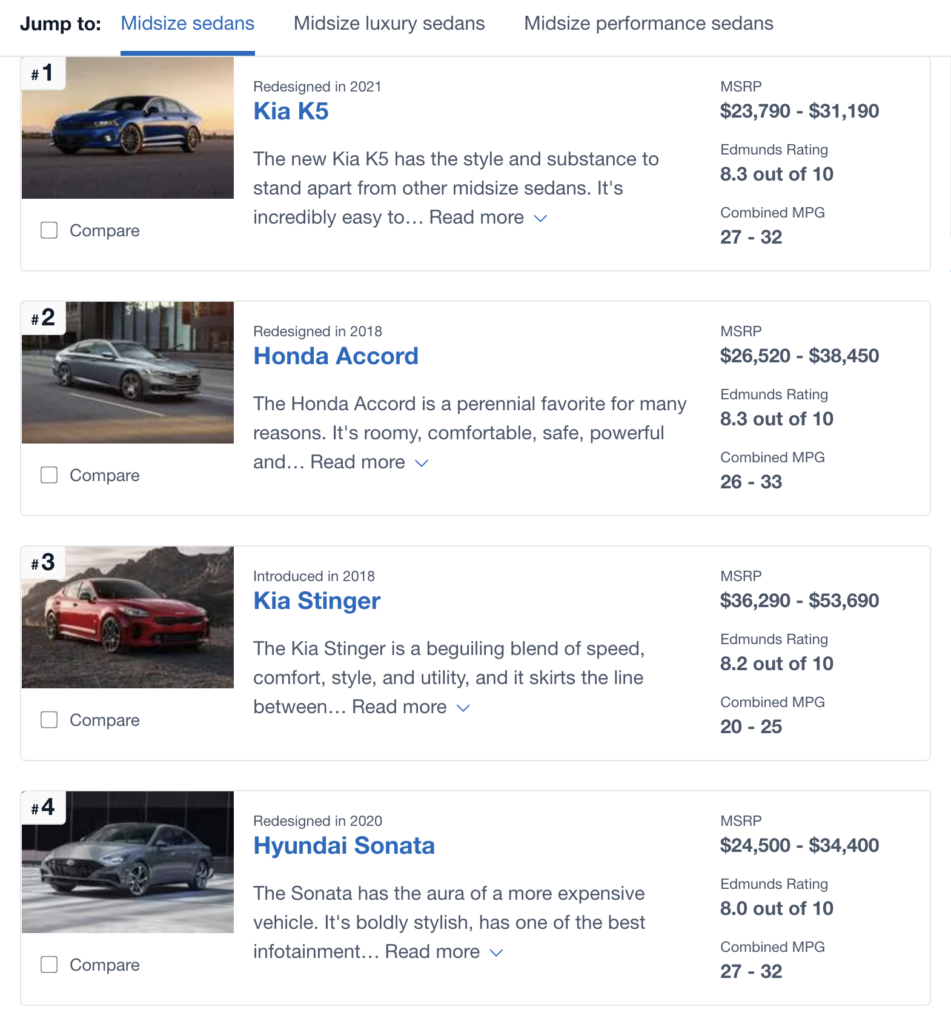 You can easily find Youtube videos showing the interior and exterior of almost any car you're interested in. For example, Edmunds has a Youtube channel here; same with Kelly Blue Book.
Use normal car rentals as test drives
Because I didn't need to make a quick decision, we rented a variety of cars so my entire family could test-drive different brands and models. This way, it wasn't just me making the decision—my wife and daughter got to spend a few days with each option and form their own impressions.
During the process, we have found quirky details that are important to us but certain brands don't have. For example, it is extremely odd, but with the Toyota Camry or some other Toyota models, you can't control the sound volume when using Apple Carplay. So we had to endure a loud voice when we used Apple Carplay, which meant almost every drive. Consequently, Toyota is not an option for us, even though I know that Toyotas are among America's most popular car brands. And their cars typically have high resale values.
After you've decided on the make and model of the car you want to buy, your next step is choosing between a brand-new or used vehicle. Personally, I play it safe by opting for a new one to avoid any complications that could come with buying a used car. If you decide to go the used route, get a vehicle history report (aka CarFax Report).
How to find a dealership
Finding a dealership can be done quickly and easily with tools like Google Maps (with search terms like "car brand + dealership." It's important to read reviews and compare prices at several dealerships to get the best deal.
Once you have found a couple of potential dealerships, reach out by giving them a call or leaving your contact details on their websites. This way, they can follow up with you promptly.
Don't forget to contact more than one dealership so that you can compare prices and other promotions (if any).
The process of getting a car loan
Of course, if you don't want to get a loan and pay the interest, that is an option. Additionally, you likely can't obtain a car loan if you don't have a full credit history in America as an expat.
After doing some research, I decided that taking out a small loan was the best option for me because:
With the low-interest rates at that time, I decided to get a loan for additional liquidity.
I read online that having a more diverse credit mix will help my credit score
If you want to know more about how to get a successful loan as an expat with limited history, check out the link.
Next: Car insurance
If you're an expat, your choices for car insurance are very limited. Most companies will quote you a very high price if you don't have a local driving license or haven't had one for long. We're talking hundreds of dollars per month! That's crazy.
After I got quotes from Progressive and Geico, I found that the price was too high for my budget.
Since Geico's process is online based, there is no customer service number to call. Usually, I am comfortable taking care of everything independently; however, considering I have never bought car insurance in this country, a few questions came up. In situations where reliable answers are needed quickly and accurately, it would be nice to talk to somebody instead of trying to search for answers myself.
After carefully researching the market, I found that State Farm offers the best terms for my needs. However, because everyone's situation is unique, you may need to do your own research online to find the brand that works best for you. Try googling "top 5 car insurance brands" and reading through each of their websites thoroughly. In addition to standard US coverage, there are a few other policy types offered by some companies (e.g., rental car insurance) so make sure you understand all of your options before making a decision.
If you have auto and renter insurance with the same company, they will offer you a discount. So if you are using two companies for your insurance, it may be beneficial to cancel one of the policies, get a refund, and sign up with the other company.
Pay attention to sales tax
Before you buy a car, think about sales tax. Depending on the county, city, and state, it can be significantly different. With low-value items, it might not make much of a difference. But with an item that costs $30k or $60k, one percent could mean saving $300 or even $600 by choosing a dealership that's not too close to where you live.
Requesting to pay a few thousand dollars using a credit card
Usually, you can charge a few thousand dollars to your credit card at most dealerships. Make use of this opportunity, as it could rack up a few thousand points or even more!
Don't buy the maintenance /extended warranty packages immediately at the dealership when you purchase a brand-new car
The important word here is "immediately." Of course, you always want to take care of your car by servicing it regularly – especially if it's new. But when you're signing the purchase agreement at the dealership, don't say yes to any extras they try to sell you right then and there.
At that point, the average person's psychology is as follows:
An automobile that costs $30,000-$40,000 (or more) is a significant purchase.
You want to make sure the car is well maintained.
The purchase price may have you thinking that a few thousand dollars for maintenance/extended warranty over time isn't much. This is especially true if you finance the car and the amount for maintenance is spread out over 36 or 48 months.
If you haven't done your research, politely decline any extras offered by the dealership.
You can always buy the maintenance plan later with careful research. I almost bought the maintenance or extended warranty plans, but my wife firmly said no to them. Thank you, darling!
Temporary license plate
The dealership will provide you with a temporary license plate that you can use to drive the car immediately after signing the agreement. Your official license will come later, sent by your local DMV in the mail.
If you want a personalized license plate where you get to choose your own set of numbers/characters, check on your local DMV website for availability and instructions.For example, here is for California.
So if you're in the market for a new car, keep all of these tips in mind! And don't forget – always research before making any big purchase. The tips above are subject to change over time. It's important to know what you're getting into, and with a little preparation, you can maximize the values you get.
Our first car in the US
The above tips were written after we bought our first car in the US. It is a Kia K5 2023. I wrote the review of the car for a family after 8,000 miles here.
Last but not least, I recently created a group on Facebook called Asian Expats in the US so that we can share/discuss more tips directly. Feel free to join.
Chandler
Subscribe to Blog via Email