This post is for you if you want to earn credit card rewards points by paying rent in the US. As of Jul 2023, only one credit card rewards program enables you to do this: the Bilt rewards program . This post includes everything you need to know about it.
Table of Contents
Let's start with some basics: what the Bilt rewards program is, and how it works.
What is the Bilt rewards program?
It is a loyalty program that allows you to "Earn points when renting with the Bilt Rewards Alliance or paying with the Bilt Mastercard®."
You can transfer the points to over 100 airlines, hotels, fitness partners, and more.
How does the Bilt rewards program work?
It is pretty straightforward. You can sign up directly on the website (this is my referral link if you want to support me.) You don't need to sign up for the Bilt Mastercard to get points for paying rent as long as you rent with the Bilt Rewards Alliance. However, the limit on earnings is up to 3,000 points per year without the Mastercard. And honestly, 3,000 points/year is not much (even though it is free). So I recommend getting the Bilt Mastercard if you want to earn serious rewards points. The annual earning limit for the Bilt Mastercard is 50,000 points. You earn 1 point for every dollar on rent.
Who pays for the Bilt rewards program points?
There is no free lunch, so you may ask why there is no other credit card reward program in the market for rent until now. (A bit of context: you have to pay typically between 2-3% transaction fee if you want to use your other credit cards to pay for rent. The main reason is that by accepting payment using a credit card, your landlord needs to pay the processing fee to several middlemen like Visa/Mastercard/Amex, etc… So the landlord charges you an additional transaction fee to recover that cost.)
According to Richard Kerr (VP at Bilt), landlords are excited about the Bilt rewards program because it costs them to attract and retain qualified renters. They often have to use cash (or cash equivalent like free 1-month rent) to attract new renters; or when certain maintenance issues occur and they want to improve the customer experience, they have to sweeten the deal with cash (or cash equivalent). With Bilt rewards, landlords can offer points as referral bonuses or sign-up bonuses or to improve the customer experience due to a maintenance issue. This rewards program helps landlords to save on marketing and customer service cost.
Bilt earns revenue on transactions outside of rent
Interestingly, according to Bilt official FAQ about "how does Bilt rewards make money?", the answer is: "Bilt is completely free to residents and free for real estate members to offer. We earn revenue on any transactions outside of rent by charging a standard credit card merchant fee." What is the typical total merchant fee? Well, according to Stripe, this is the average processing fee for Mastercard: The fees can range from approximately 1.15% + $0.05 to 2.5% + $0.10 per transaction. Bilt credit card is a Mastercard.
So for the Bilt rewards program to be sustainable, they need to earn enough money from transactions outside of rent to cover the points they give out for rent.
So I guess that explains why:
Bilt doesn't offer a sign-up bonus because the typical good sign-up bonuses from other credit card rewards programs are about 50,000 – 80,000 points (loosely translation $500+ signup bonus). Without offering any signup bonuses and the limit of a maximum of 50,000 points/year from rent, they can cover the maximum points for rent for the first year.

They use the customer acquisition cost (in the form of sign-up bonuses) to fund Bilt points for rent in the first year.
This way, they are relatively "safe" because 50,000 points equal the sign-up bonus from Chase, American Express, or CapitalOne.

They require you to use the Bilt MasterCard at least five times outside of rent for each payment cycle to earn points from rent. This will help them to earn some money. And more importantly, it encourages users to develop the habit of using Bilt Mastercard often.
My educated guess is that for Bilt to make enough money to cover the points for rent and their overhead, they need to reach a critical mass i.e. a minimum number of transactions outside of rent/year. And so, while they are getting to that point, they have a limit of 50,000 points from rent per year per card.
Bilt Protect benefits both Bilt and the end user. What do I mean by this?

Using Bilt Protect, you connect your bank account with Bilt, and Bilt will pull funds directly from your bank account to pay for your rent.
My educated guess is that since this is similar to ACH transfer, Bilt doesn't have to incur high processing fee vs. when the rent is processed through Mastercard. This saves them more money.
For the end user, this can help with their credit utilization rate and perhaps their credit score since rent is often one of the biggest monthly expenses.
Is it easy to apply for the Bilt mastercard?
From my research, it seems that as long as your credit score is good to excellent, you should get approved for the Bilt Mastercard. The online application process is straightforward. As long as your credit file is not frozen, you should know the approval status immediately.
If your credit file is frozen and you forget to unfreeze or thaw it before you apply, no worry, just give them a call using the number given and they will sort it out.
How does Bilt pay landlords?
Bilt offers multiple ways to pay your landlords: through physical checks, your property's online payment portal, Venmo, Paypal or if your property is part of the Bilt Alliance, simply add your home into the Bilt App and use it to pay rent.
Most of us do not stay at a property under Bilt Alliance so it is likely that we will use the property's online payment portal to pay rent, without incurring additional fee. To make this work, head to Bilt Rewards app or website, set up your Bilt Rent Account. Bilt will generate a unique routing number and account number for you to use in your resident portal.
You can read more about this process here or here if you are a Bilt Alliance resident.
How much is each Bilt point worth?
According to Richard Kerr, VP at Bilt, in this Q&A video, each Bilt point is worth 1.25 cents when you book travel or do other activities via the Bilt portal.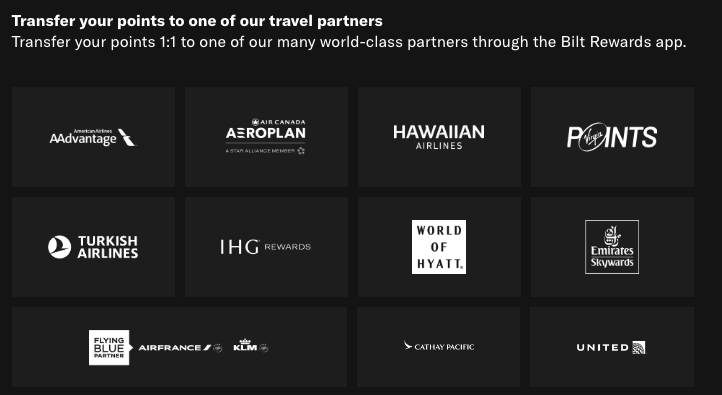 Bilt won The Points Guy Readers' Choice Awards
Bilt Mastercard® was just named the Best No-Annual-Fee Credit Card for the 2nd year in a row. So it is a popular no-annual-fee card.
Bilt rewards has an extensive how to section
If you happen to have additional questions, head over to the FAQ section on the site. While Bilt user interface is very friendly, having a comprehensive FAQ section is definitely welcome! You can find answers to many common questions like:
| | |
| --- | --- |
| I'm a Bilt Alliance Resident | I Live Outside of the Bilt Alliance |
| 1. How to add and remove your home? | 1. How to set up your Bilt Rent Account |
| 2. How to make a rent payment? | 2. How to find the deposit verification amount for a Bilt Rent Account? |
| 3. How to enable BiltProtect Debit? | 3. How to set up autopay using a Bilt Rent Account? |
| 4. How to set up autopay for rent? | 4. How to pay rent via check using Bilt Rewards? |
Still have questions?
If you want to know more about Bilt credit card, you can read this post with more information.
That's all from me. If you want to apply for a Bilt Mastercard and support me, use this referral link.
Thanks,
Chandler
Subscribe to Blog via Email