The allure of Yellowstone National Park, with its geothermal marvels and untamed wildlife, had long beckoned our family to venture into its expansive wild terrains. As a family of three with a curious, young one, we were keen on making our first visit during a time that promised fewer crowds yet still offered the quintessential Yellowstone experience. The fall season, with its crisp air and the promise of fewer crowds, seemed like the ideal time, especially since it coincided with the school break. This post shares our experiences and can serve as a guide for first-timers, especially families with children.
Table of Contents
Pre-trip planning
We didn't book the trip many months in advance, only about 1 month + out. The first task is to figure out the overall itinerary. Because of our daughter's fall break, we had a maximum of about 9 days to travel but we didn't want to use all of that time because it would be very tiring after. So we decided to go for a maximum of 7 days.
Transportation was our first puzzle to solve. The daunting 1000-mile stretch from the Bay Area, California to Yellowstone loomed before us. While the road trip had its charm, the long hours with a child in the backseat required a second thought. Air travel emerged as the practical choice but with a twist. Our research unveiled two nearby airports – Yellowstone Airport and Bozeman. Yellowstone Airport is just outside the west entrance so it is really close. Bozeman is about 100 miles away to the north so it is not that far either. So both are good options. However, if we use either one of them, that means our trip would have been to only Yellowstone and back, which felt a bit too short and limited.
So we explored further and there was another good option. We could fly to Salt Lake City, rent a car there, drive to Yellowstone (about 4 hours), spend a few days in Yellowstone, drive back to Salt Lake City, spend some time in the city, and then fly back. With this option, we could explore both Yellowstone and Salt Lake City for the first time.
Air ticket and car rental
Once we decided on the overall high-level itinerary, the choice of airline was fairly straightforward. Delta Airlines, with its direct flight to Salt Lake City, was our go-to option.
Now, onto the car rental. A quick delve into the options, we discovered that booking through Costco Travel with Enterprise was a cost-effective choice, a tip worth noting for fellow travelers looking to save on car rentals.
Accommodation for Yellowstone
We highly recommend staying in West Yellowstone because:
It is a short drive to the west entrance (about 10 mins drive)
It has all of the facilities that you may need from decent hotels (for national parks), to restaurants, grocery stores, etc…
We stayed at Best Western Desert Inn and were happy with the choice. Again, we knew that we couldn't expect five-star accommodation near or inside a national park so the hotel meets our expectations. We could always rely on decent room size and the coin-operated laundry room at Best Western hotels. Their Western-style breakfast buffet is ok too. The hotel is literally less than 5 min drive from the park west entrance.
Salt lake city international airport is modern and clean
The dawn of our journey arrived with a pleasant flight from SFO to Salt Lake City International Airport (SLC). Upon landing, we were surprised to find that Salt Lake City (SLC) international airport is so clean and modern. It is much better than SFO or JFK and has much cleaner toilets.
We promptly picked up our rental car, and with maps loaded and bags packed, we embarked on the scenic drive to West Yellowstone, the gateway to the wilderness that beckoned.
Scenic drive from SLC to West Yellowstone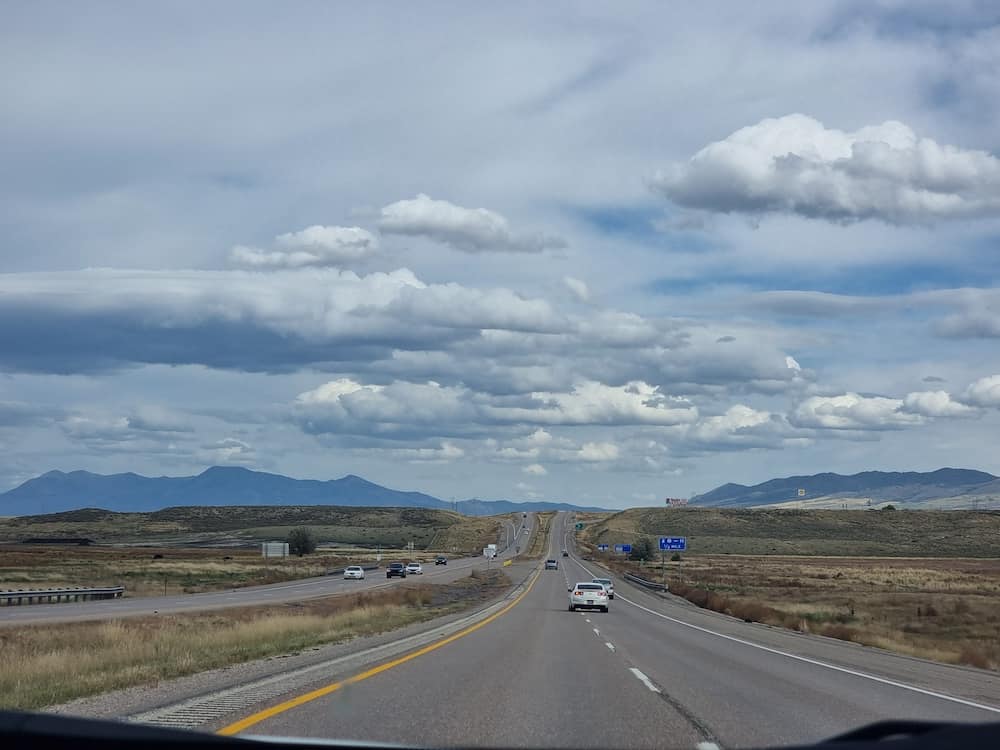 or you can see the video below
Arrival and First impressions
As we rolled into the quaint town of West Yellowstone, the rustic charm greeted us warmly. The town, nestled at the doorstep of nature's marvel, was a blend of cozy eateries, quaint shops, and a promise of adventures awaiting. The evening was spent meandering through the streets, soaking in the calm before diving into the wilderness the next morning. Our daughter was particularly excited, the promise of spotting wildlife was a thrilling prospect.
If you like Chinese food or spicy Asian food like us, we recommend Red Lotus. For a remote place, next to a national park, the food quality is good, above our expectations. They automatically include tips in the final bill so be aware of that so you don't have to add extra tip to the bill.
This is the view of the town outside of our window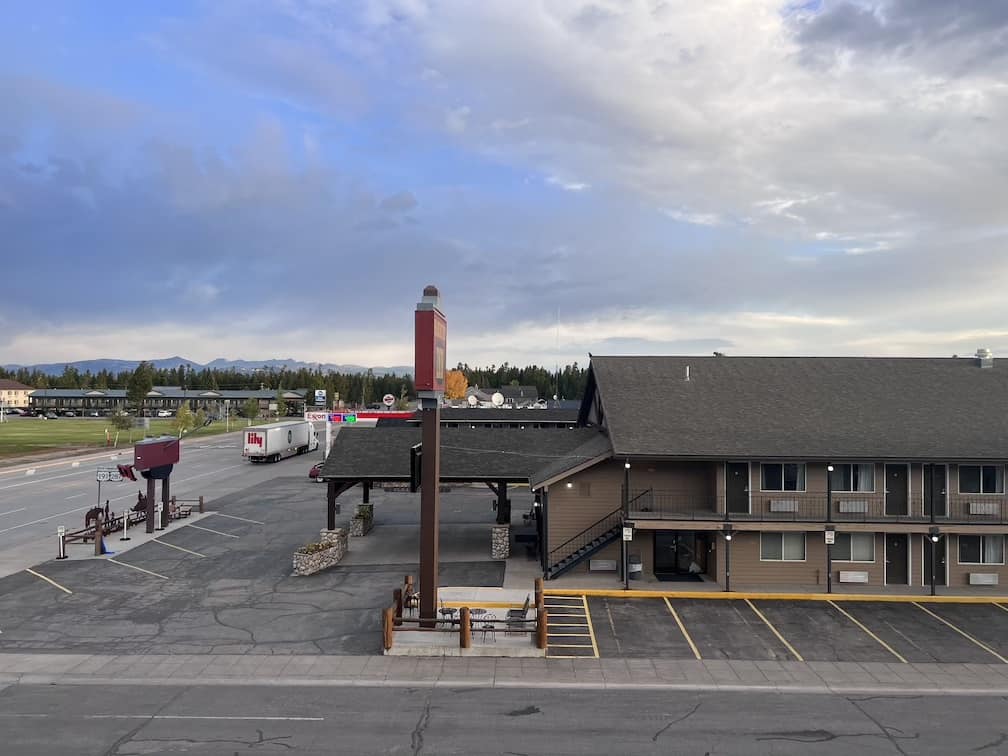 Exploring Yellowstone: A Nature's Wonderland
Day 1 itinerary
You don't need to start too early in the morning if you follow the itinerary below. Before your drive from the hotel, make sure to use Google Map offline map function and download the areas you want to visit. Cell signal or wifi within the park is very limited.
Old faithful: make sure to check out the estimated eruption time at the visitor center. This is the video of a live eruption that we captured during the trip.
West Thumb
Black Sand Basin
Grand Prismatic Spring: It is often very windy and cold when you try to walk to up the Spring/Midway Geyser so make sure you have a windbreaker.
Midway Geyser Basin
This leaves plenty of time for you to walk around or stop along the way if you see nice view. We took a lot of photos on the first day and here is a sample: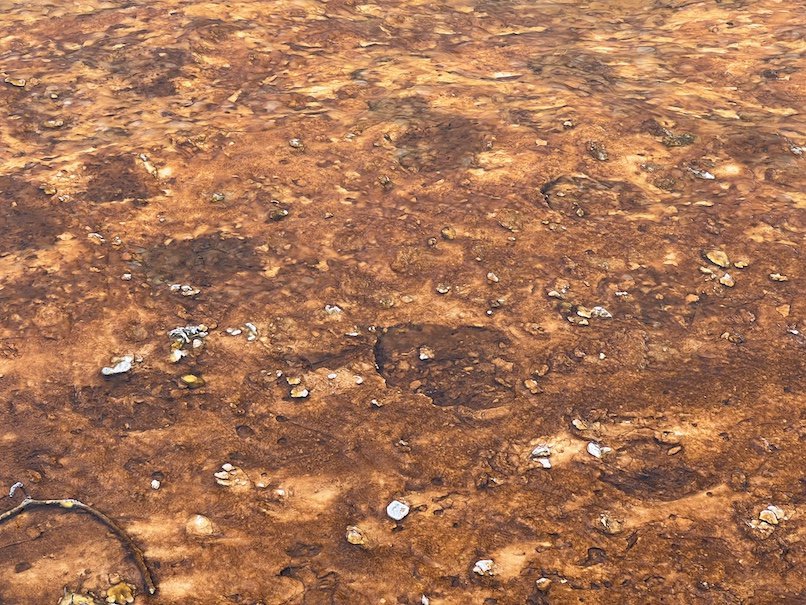 Day 2 itinerary
The early morning drive to Lamar Valley was filled with anticipation. The sightings of bison in their natural habitat were awe-inspiring, a lesson in nature's unscripted reality. The drive from West YellowStone to Lamar Valley is about 2 hours, including stops to take photos along the way. You should pack lunch with you so that you can stay and enjoy the view at the valley. If you get lucky, you can get really close to some bison as they wander beside the road. Plenty of elks can be seen too.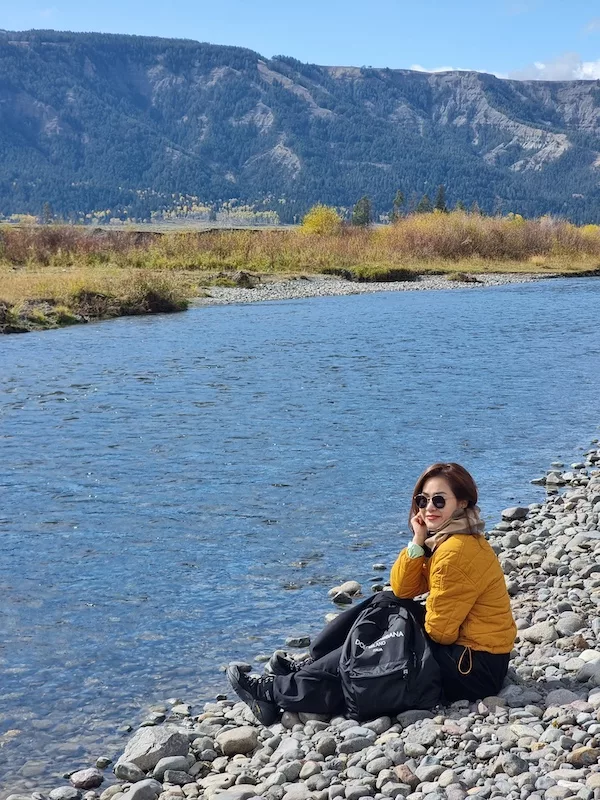 Our venture into the Grand Canyon of Yellowstone revealed vistas that were nothing short of a painter's perfect canvas. The Lookout Point offered a panoramic view of the canyon's grandeur.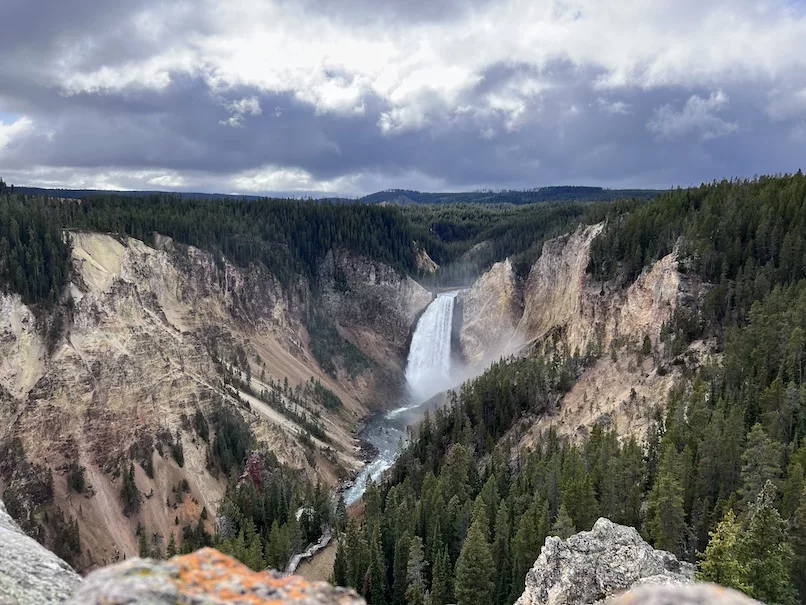 Salt Lake City Detour
Plenty of food options between West Yellowstone and Salt Lake city
If you use freeways 20 and 15 to drive back to Salt Lake City from West Yellowstone, there are plenty of food options along the way since we pass through many towns/small cities. For example, in Pocatello, Thai Zap is a decent place for Thai food. The taste is quite authentic.
One and a half day is enough to explore Salt Lake City
We visited the main places of interest like: Temple Square, Utah Olympics Park, Natural History Museum of Utah and even East High (where the Highschool musical was filmed.)
This is the video of Sophie dancing to "We are all in this together"
It is not free to visit the Natural History Museum but it is worth the money and a visit 🙂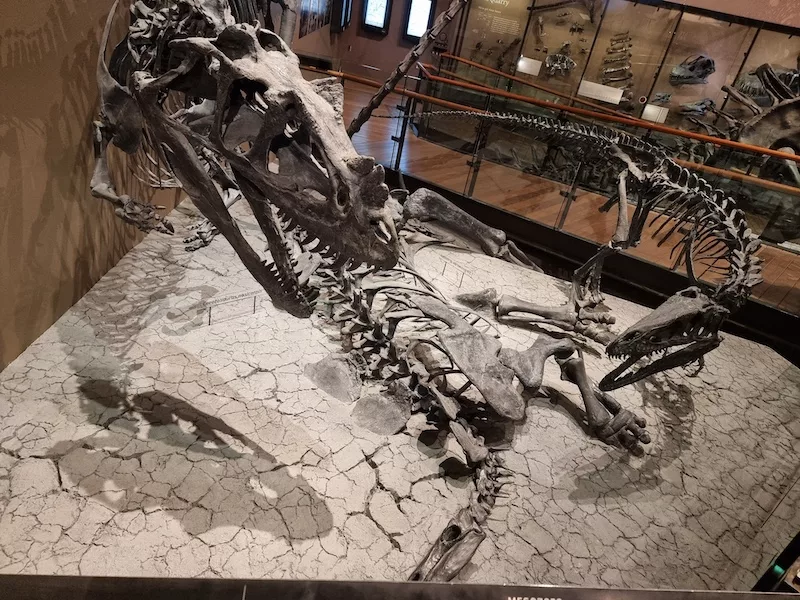 Salt Lake city is a well planned city with big and clean streets, friendly to pedestrians. We like the city a lot except for the food. Our culinary adventures in Salt Lake City were less than satisfactory. The ramen at Ramen 930 was a salty affair, devoid of the authentic flavors we craved. The service at Buca di Beppo Italian Restaurant was sluggish, with a long wait for a pizza that fell short on taste.
Conclusion
Our family's expedition from the urban bustle to the serene wilderness of Yellowstone, culminating in the cultural embrace of Salt Lake City, was a journey of discovery, bonding, and an unending sense of wonder. The contrasting landscapes, the lessons in nature, and the explorations into history and culture enriched our family bond, painting our life's canvas with indelible memories.
We'd love to hear about your experiences and tips for a family adventure to Yellowstone and Salt Lake City. Share your stories in the comments below, and let's continue embracing the wonders that our beautiful world has to offer.
Other US National Parks that we have been to
Pacific NorthWest National Parks: Mount Rainier, North Cascades, Crater Lake and Lassen.
Joshua Tree National Park
Yosemite National Park
Pinnacles National Park
Zion National Park
Yosemite, Pinnacles, Grand Canyon, Joshua Tree, and Death Valley in one guide
Subscribe to Blog via Email