Like many other vietnamese, i like having pizza. Our office just had pizza for lunch today actually.
Our receptionist went online, searched for the pizza place that had promotion today and then ordered. Out of career habit, i started to wonder if many other Vietnamese would do the same when they want to have pizza i.e they use Google to search and choose their pizza places.
To better represent the picture, let's assume that there are two groups of people:
They like to have pizza and already have a few pizza restaurants in mind.
People who like to eat pizza but have no definite plan of choosing a particular pizza place
1. Top of mind pizza place
To compare the popularity of different pizza places, naturally i rely on Google tool.
First i use Google keyword tool to find a list of all famous pizza places according to Google i.e. people search for them online. The following comes out:
pizzahut
domino pizza
pepperoni pizza
pizza inn
boston pizza
Rita Italian
any many others type
Let's say if someone wants to find pizza hut website, to check out promotions or find the number to call, he/she would go to google and type in "pizza hut" or "pizzahut site". Google will naturally show pizza hut main site.
A couple of questions pop into my mind, is the current Pizzahut site brings the best user experience? Let's take a look at a couple of examples:
First of all, the whole site is filled with English. I am not saying Vietnamese can not read English, but the majority of us would feel better reading Vietnamese.
The menu part is quite hard to read/understand because it's in picture form and the image quality is poor.
From SEO stand point, this site is not optimized
Since this post is not about how good/bad a site is from user experience stand point, let's check pepperoni pizza next.
When you search for "pepperoni pizza" you can't find the site on the first page, i would suspect that pepperoni pizza does not have a website. This would be quite detrimental because not everyone would have the phone number of pepperoni pizza handy. Also without any information on current promotions, user would be very likely to order from someone else.
Searching for domino pizza yields better result as compared to pepperoni. At least we can find the site, dominos.vn
However, the position is not in the top 2, but position 3 for me on Google Search Result page. We can see that Domino Vietnam site uses the same template as the US one without any Search Engine Optimization work done.
Pizza inn has the same issue as Pepperoni pizza since i don't think they have a site.
With the target audience of many pizza restaurants in Vietnam being youngsters and office professionals, it would be detrimental to the business if they don't have a website because their audience uses the internet a lot.
2. Common pizza search terms
Well, besides branded search terms i.e. pizzahut, pizza inn Vietnamese do search for other common terms related to pizza as well. Their search habit ranges from searching for promotion, how to make pizza, how much it costs to have pizza etc…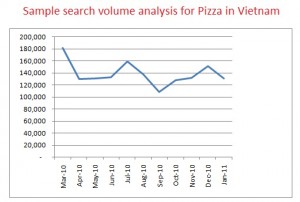 As we can see from the picture, every month for the last 12 months, there are more than 120,000 searches for information about pizza in Vietnam. These are all generic terms and my sample size only includes 30 keywords. With more keywords, i am quite certain the search volume for pizza would be much higher. Yet, the point here is this, none of the pizza brands rank for most of the Generic search terms like pizza delivery in Vietnamese or promotion.
This means pizza restaurants can't approach a very big group of people who are interested in pizza and actively looking for information about current promotions, delivery service etc…
3. How to use Google to promote your pizza business
There are two simple ways, one is by buying ads on Google and the second one is by optimizing your site so that your site ranks high on natural result page.
Buying ads on Google is on a click basis i.e. you only pay Google if someone likes your ads and click on it to find out more information.
If you go with the second option, you don't have to pay anything when someone click on your listing and visit your site because it's under natural result. However, you may need to find a suitable SEO provider.
4. Why traffic from Google is valuable to your pizza restaurant?
Well this is a fair question to ask.
why do you need to use Google i may ask? well most likely, you use Google to find out more information about something that you are interested in. In this case, those people who search on Google for Pizza restaurant, pizza brands, and other generic terms probably like to eat pizza like me 🙂 => they have needs!
After entering the search term, most people would scan the result page and only click on those that they find suitable => they have needs and they think your product has potential so they want to check it out!
In simple terms, traffic from Google represents golden opportunity for Pizza restaurant to reach out to existing customers, prospective customers!
Well that's about it for me.
Cheerio,
Chandler
Updated 14 Mar 2011: Since the afternoon, PizzaHut website has been down until now. The error is bandwidth exceeded. I am not sure if anyone is taking care of this issue but website being down is a big issue for a B2C website. If i want to order Pizza now, which number should i call?