This article might show such lack of understanding about the JP market from me so apology for that in advance.
For those people working in Japan advertising industry, we all know that Dentsu is big, actually very very big in the local market. However, I myself don't know how big Dentsu is in relation to other competitors or agency group else where. Hence, I did a bit of research and came up with the following interesting facts
1. Dentsu has 25% of the entire Japanese Advertising Market
Data from non-consolidated net sales report shows that in the financial year of 2014 (ended Mar 2015), Dentsu has a revenue of JPY 1,535 Billion. And from the Japan advertising expenditure 2014 report, the entire JP market advertising expenditure was JPY 6,152 Billion.
Hence, Dentsu has about 25% of the market. This is at least 80% higher than the nearest competitor according to "Current Situation of Japanese Advertising Agencies, Advertising and Economy (Advertising and Economy Research Institute) 
Dentsu has about 7,300 employees in Japan according to the corporate profile so per employee net sales for 2014 was JPY 210 Million or USD 2M/employee/year
2. Dentsu is the fourth largest Media Agency group globally
Recma overall activity ranking 2013 report shows us that Dentsu Group's Media Billings ranked 4th globally, with the total of USD $53.2 billion, about 50% the size of WPP group at US $104.5 billion.
Dentsu referred to that fact here on their corporate site. The graph below is from Dentsu's site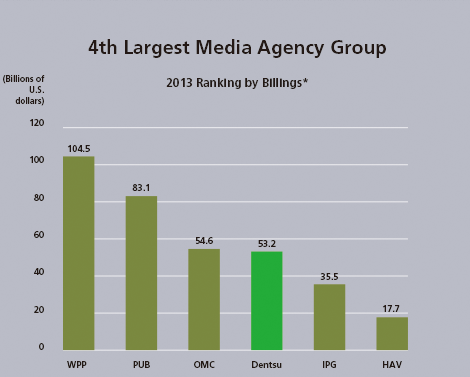 Since Dentsu Group's media billings are a simple sum of Dentsu Aegis Network's media billings and Dentsu's non-consolidated media billings, one could guess that Dentsu Aegis Network's media billings was around US $28 billion in 2013.
http://www.dentsu.com/ir/data/pdf/2015EAPREE1.pdf
3. Dentsu Tokyo was the runner-up for "Agency of the year" award for 2014 at Cannes Lion 2015
Here is the report from Cannes Lion.
The definition of agency of the year award is "For the purposes of Cannes Lions, an Agency is defined as a single office of an advertising, PR, Design or other agency that is a service based business dedicated to creating, advertising and other forms of promotional marketing for its clients."
The three winners for 2014 are:
1. ADAM&EVEDDB, LONDON
2. Dentsu, Tokyo
3. AlmapBBDO, São Paulo
Cheers,
Chandler