1. Across Asia, over the next few years, subscription video on demand (SVOD) is reaching more than 470M households in 2022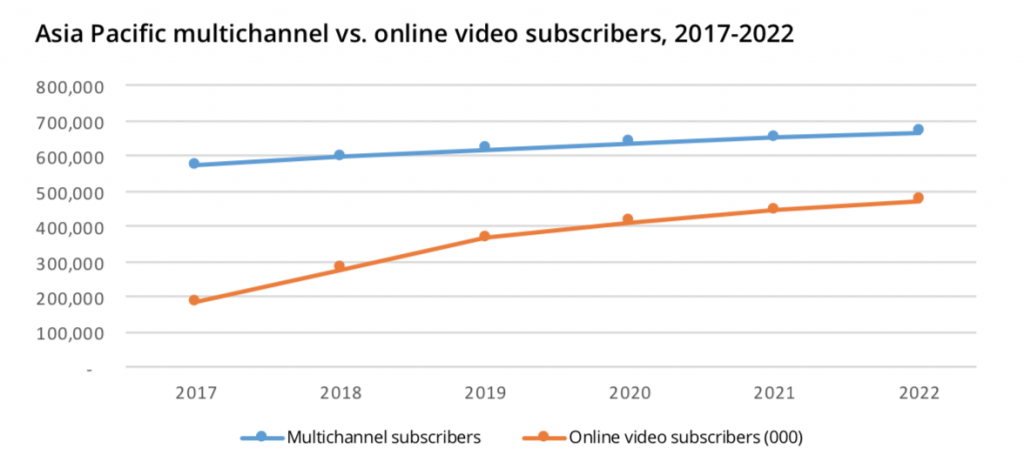 Data from S&P Global Market Intelligence, in the report "the asia video industry report" from Asia Video Industry Association.
2. Growth from OTT subscribers in China is amongst the highest in the world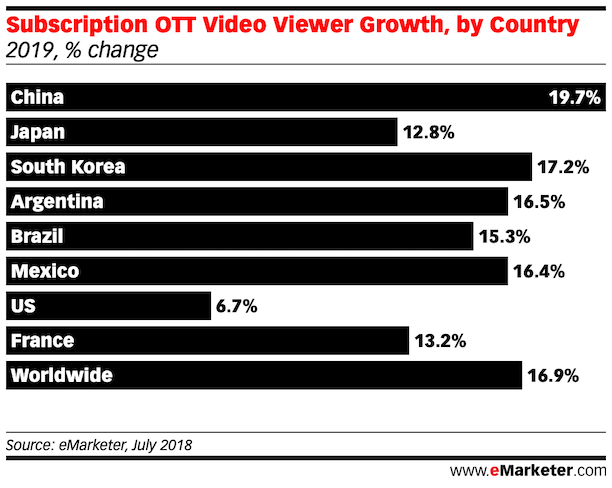 3. OTT subscription revenue in China is forecasted to be as big as pay TV in 2022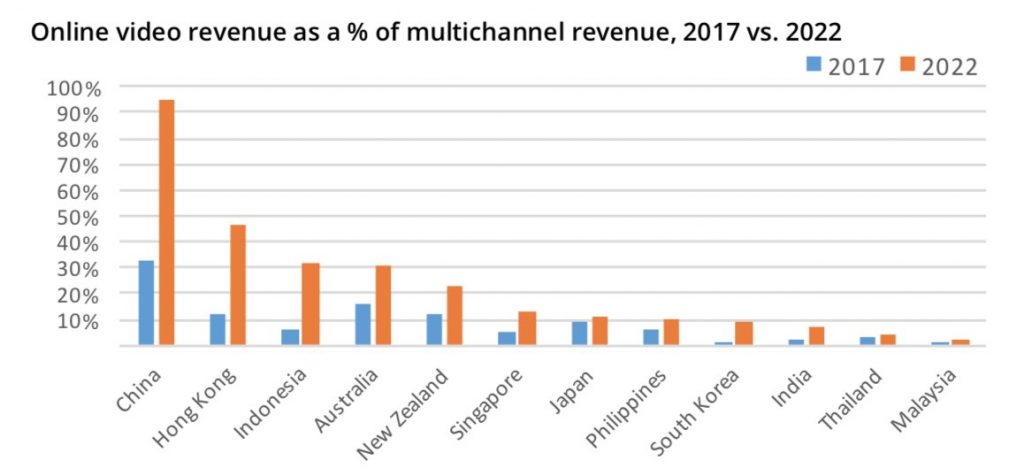 Data from S&P Global Market Intelligence, in the report "the asia video industry report" from Asia Video Industry Association.
4. Three main OTT video players in China have roughly the same number of paid subscribers (around 80M+ in 2018)
According to data from Tencent, iQiyi quarterly earning reports, iQiyi has 86M paid subscribers and Tencent Video has 82M paid subscribers by the end of 2018. Report from eMarketer expects Alibaba Youku paid subscriber number to be relatively in the same range with iQiyi and Tencent Video.
YouTube paid subscription increased substantially this year due to the Russia World cup right.
5. OTT platforms are on course to spend more on content creation than traditional TV programming spend in China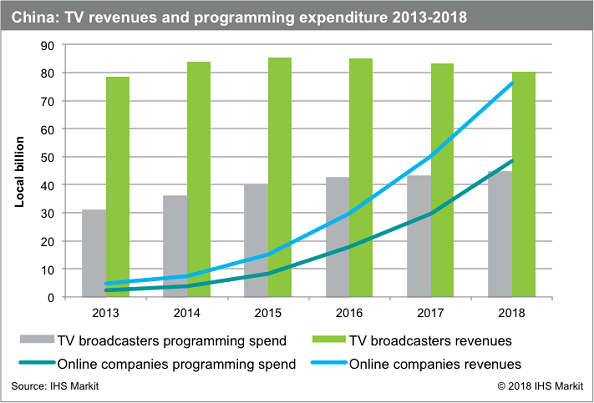 Data from this report from IHS Markit. When I reached out to IHS Markit, IHS Markit Senior Research Analyst Kia Ling Teoh provided the attached data and the comment "We estimate Alibaba Youku, iQiyi and Tencent Video collectively spent $7 billion on programming in 2018; in which 32% went into originated programming and the remaining were for acquired and sports."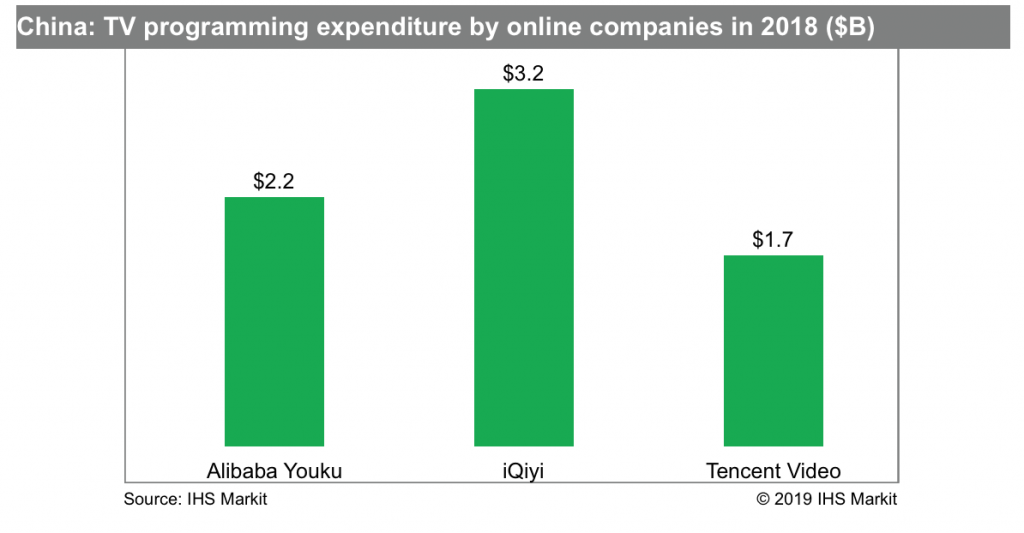 6. Paid video OTT subscribers in China pays on average between $26 – $35/year
Data from Baidu iQiyi platform and Tencent Video platform. Given the competitive nature of the market, I expect Alibaba Youku subscription price to be in the same range. This is significantly lower than the monthly/annual cost for Netflix or other similar services in overseas markets.
Data from "the asia video industry report" from Asia Video Industry Association shows that China IPTV average revenue per user (ARPU) is around $0.92/month or only $11/year, so perhaps it's not surprising to see the annual cost for digital video OTT service in China.
In comparison, IPTV ARPU was highest in New Zealand at $49.24 per month.
7. Sports OTT is getting big in China too with about 2/3 of internet users in China use laptop/mobile/tablet to watch sports content online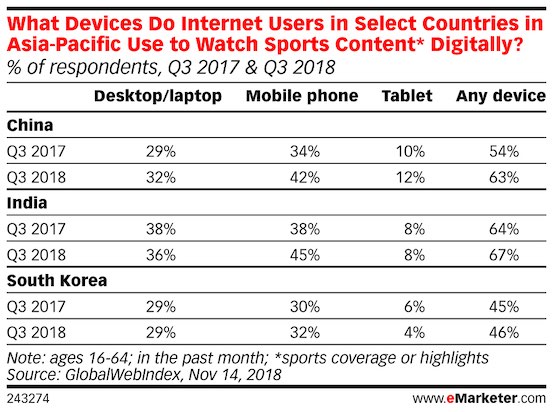 There are many services in China offering sports content digitally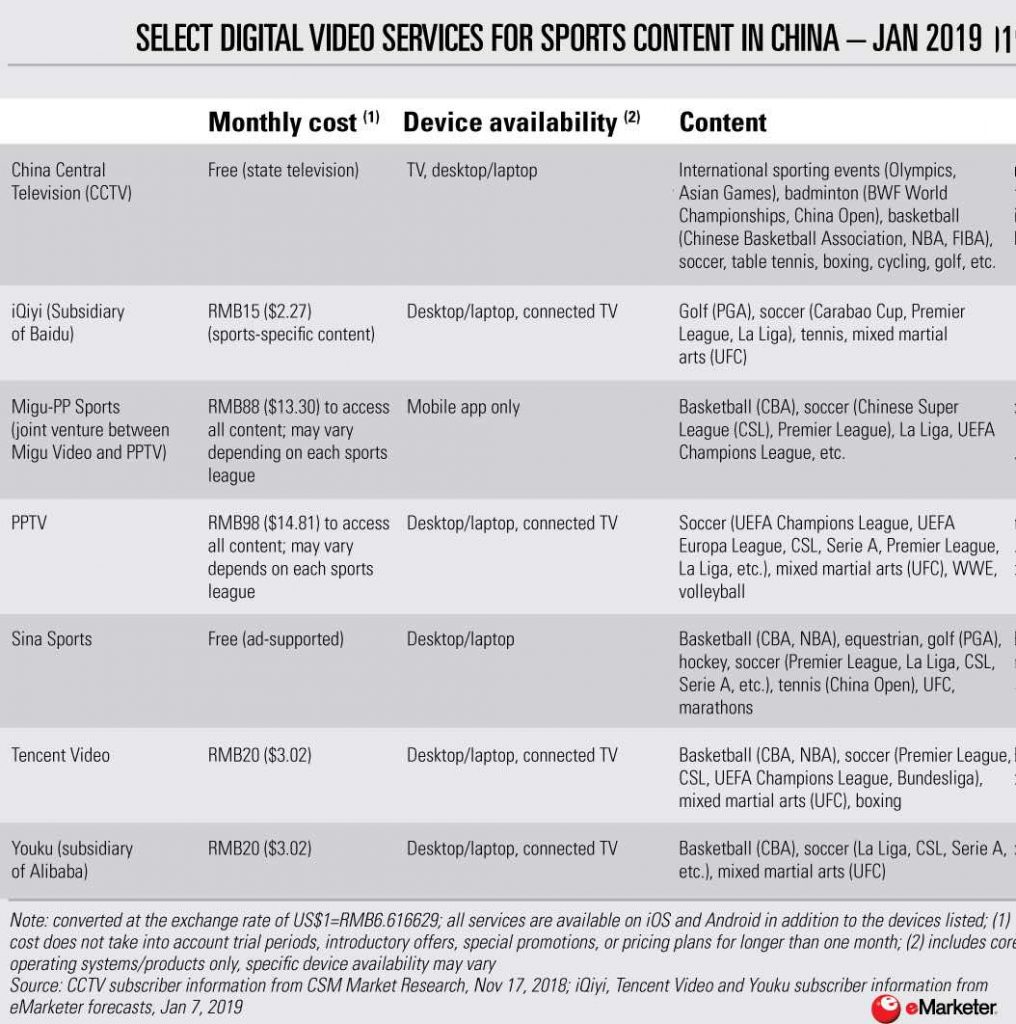 8. While Tencent Video and Youku don't disclose their profitability, we expect all three leading OTT services (including iQIYI) are running at loss
Latest third quarter 2018 earning report from iQIYI showed that the company had an operating loss of US $377M for Q3. According to Forbes and IHS markit, Tencent Video and Youku are probably operating in the red in the similar range, given the competitive nature of the market, content development/licensing cost etc.
However, all three companies seem to continue to invest heavily to capture more market share by developing a stronger content offering ecosystem.
This post is part of a series about China that I have been writing in 2019. You can find more of them below:
China luxury product marketing: key facts and trends

China influencer marketing – 8 key facts you need to know
China mobile games : 8 key facts and trends
China (the largest retail market in the world): key facts and trends
8 Key facts about china advertising landscape
9 key facts about China digital landscape
That's all from me for today. If you have any questions, feel free to drop them below.
Cheers,
Chandler