Have you ever wondered what role your agency plays in the bigger picture? When you heard of Google bought DoubleClick, did you immediate think of the consequences and how that would change the digital display ecosystem? If you are a founder and you ever wonder who would be your potential acquirer? Well this post hopefully would give you some pointers to answer these questions and more.
Quick note before we jump in: All of the materials for this post are 100% from Luma Partners. While I have known about Luma Partners for a while now, it was Chris Elkin from Red who suggested that I should write something on this topic to follow my "Welcome to the agency world in Vietnam (part 1)". Thank you Chris!
1. What is LUMAscape?
LUMA partners (who provides strategic advice to companies at the intersection of media and technology) is the company who advises on deals like: Admeld acquired by Google, Tumri acquired by Collective, interclick acquired by Yahoo etc…
With their extensive experience, they provided to us all something really extraordinary: different global ecosystem/ landscape of Display Advertising, Search, Video, Mobile, Social, Commerce, Gaming, Digital Capital and even Strategic buyer.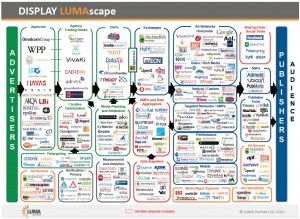 2. How valuable is LUMAscape?
Well,  to founders/strategic buyers, these LUMAscapes are extremely valuable.
First of all, they provide the overall picture of who are the big players on global scale in certain area of Digital marketing & technology like Display Advertising or Mobile etc…
Secondly, if you are a founder and you ever wonder what your exit strategy should be, who should be the potential buyer of your company or which company you should buy or which area of business you should go into, these LUMAscapes are great starting points.
LUMA partners helped in putting companies into different roles in the whole ecosystem, you could see/position your company in a way that avoids unnecessary competition and at the same time provide strategic values to your would-be acquirer.
3. Let's look at Display LUMAscape for example
The first thing you notice is between marketers on the left hand side and consumers on the right hand side, there are many different layers/companies in between. Each company plays certain role for example,  we would have the big agency groups, then their specialist trading desks, then retargeting technology companies, ad server, DSP, Exchange, media planning and attribution, ad network, data supplier, SSP, etc…
Companies within the same group compete directly, while companies from different groups complement each other because they need each other to work more efficiently, fulfilling different roles in the ecosystem. While Google is known to many as a search engine or the creator of Android OS, their presence along the chain of Display Advertising is extremely prominent. They play key roles across the whole Display Advertising ecosystem, creating values and at the same time, making them one of the biggest players (if not the biggest) in this field.
The same could be said about Search ecosystem in which Google dominates.
4. What technologies should I use for my social media marketing?
Well this question or many questions like this could be answered easily if you look at the Social LUMAscape.
We have social media management technologies, social intelligence, blogging platform, social scoring etc… Most of what you are looking for are there. LUMA partners already divided different companies into different groups based on their functions in the ecosystem.
Of course, the categorisation above is not 110% correct because companies change their focus from time to time, new companies are born etc…. However I trust that for the right target audience (founders, strategic buyers, M&A specialists, product manager, etc…) you would find these materials extremely useful.
Anyway, I decided to put the excel file which includes names of all companies in these LUMAscape here so that everyone could benefit. Feel free to download and hopefully it could be useful to you.
Thanks,
Chandler