Hi there,
Happy Saturday!
I recently came across this article "Take a leaf out of Lamborghini's social media playbook" on Marketing Magazine (marketing-interactive) in Jul 2015. The reporter attended an event called "Engage Prague 2015: A focus on social media" organised by Socialbakers and wrote the article. The article intrigued me, partly also because in the print copy of the magazine the global head of digital for this car brand claimed that "Buying paid (social) media is like forcing a conversation. We don't need advertising, that is our stand. What (activity) you see on Facebook is purely organic".
Rather than going into a conversation about whether a pure earned/organic strategy for Facebook makes sense, let's dive into their social media playbook.
The picture below was taken from the print article.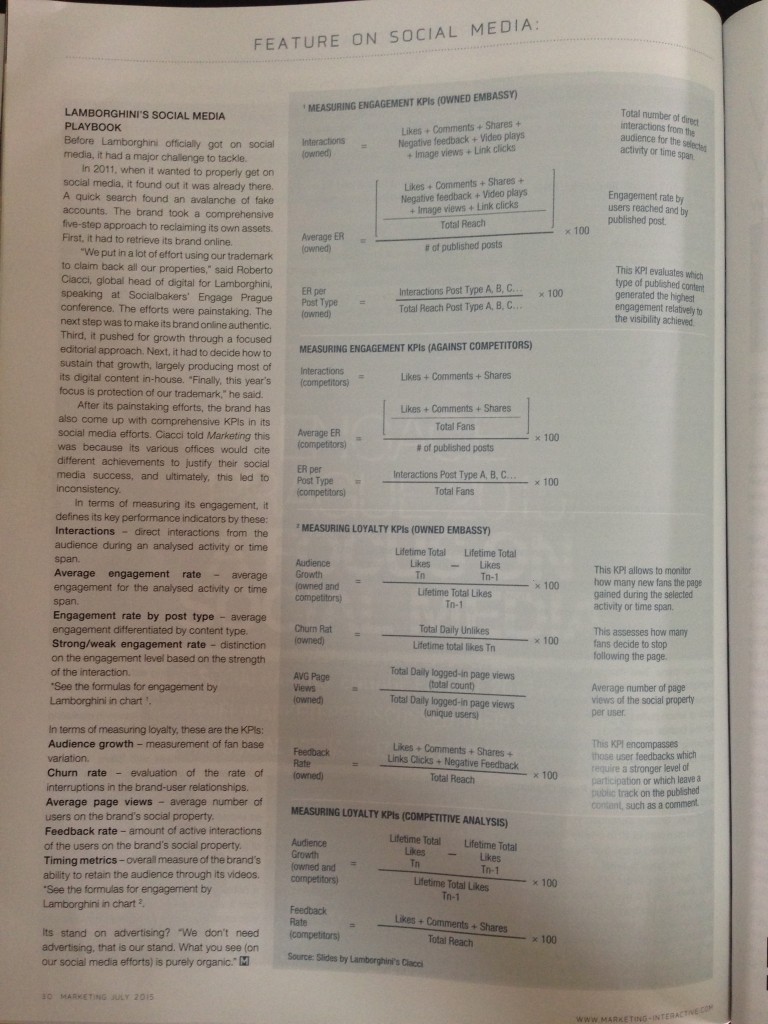 Lack of context
The article mentioned about Lamborghini's "KPIs" for social media and their formula like "Interactions", or "Average engagement rate" etc. However, without necessary context I don't see the connection between these metrics and the brand business objectives? May be there is none?
If it were me, I would start explaining why a luxury car brand like Lamborghini decided to spend money on social media? What's their business objective that social media could help with?
How does social media help our car brand to increase awareness?
Increase familiarity/Educate prospective buyer of their cars?
Increase purchase consideration?
Guide prospective buyers during the validation stage?
Or is it about providing another channel for customer service after sales?
What is the role of social media marketing in the overall marketing picture?
Without knowing the answers to these questions, those metrics mentioned above don't really have any meaning.
Are metrics like average engagement rate or audience growth or churn rate KPIs?
I am not sure if metrics like "engagement" or "loyalty" as defined above should be used as KPIs?
For example, there are following metrics suggested as KPI for measuring engagement
Interactions (owned): Total number of direct interaction from the audience for the selected activity or time span.

Interaction = Likes + Comments + Shares + Negative feedback + Video plays + Image Views + Link Clicks

Average Engagement Rate: by users reached and by published post

Average Engagement Rate = (Interactions/Total Reach / # of published posts) *100
If the coms objective is brand awareness/consideration or intent, should we use KPIs like causal lift measured by control/exposed survey/study?
As for Brand Loyalty, I am doubtful that we should use fan growth rate or churn rate as KPIs.
Without any quantitative research, how do we know the percentage of those Facebook "fan" that Lamborghini has on their Facebook page are within their core target audience? Is it a good percentage across multiple countries? Also what's the sentiment trend of customers after sales?
Let's talk efficiency?
For a moment, let's assume that the metrics mentioned in the articles have causal relationship with the brand business objective. How about efficiency? Profitability?
This could be covered already in the presentation but what is the value of a Facebook fan to the brand?
How do we quantify this?
The engagement and loyalty KPIs seem nice but what is the cost per engagement or cost per so called "loyal" fan? While it might be true that Lamborghini's social media strategy is 100% organic, they still incur overheads like compensation for for the in-house team, cost for creative production i.e. Image licensing or video production etc…
After we have a view on efficiency for social media, should we compare it with other online channel? Is it more or less efficient?
In short, since I didn't attend the conference, I wouldn't know the full presentation shared. However, having shown those metrics and their definitions above in isolation doesn't seem like a good idea. It would be hard for  the audience of the article to gain any actionable insights or take any action after.
As always, any feedback is welcome.
Cheers,
Chandler