Are you thinking of making the big move from Asia to the US? It can be a complicated task, but you can make it a smooth transition with careful preparation. Here are some tips to help you get started.
Everyone's situation is different (your background, job prospect, financial situation, etc.) so I am trying to find the right balance between very specific learnings (which may only apply to me) vs generalizing the learnings so that they can be applicable to more people. When people learn how to relocate, they often seek specific advice. In this post, I will go into some detail to provide that kind of guidance.
The post is long, so you can also use the table of content below to jump directly to specific parts of this post.
(Update 2023: since this post was written back in 2022, this is the updated 2023 version: The Asian Expat Handbook: navigating your move to the US)
Table of Contents
1. When to relocate
We moved at the end of November, and it turns out that we were luckier than we first realized.
Since many western countries have seasonal holidays at the end of the year, it may be a less hectic time for you work-wise. Therefore, late November or early December can be an opportune moment to relocate because you will need plenty of time to settle and deal with unanticipated issues.
You don't want to wait too long into December to relocate, though, because then people are usually out of the office on leave, and tasks take much longer to complete. Therefore, November is an opportune time to move to a western country.
If November is not suitable for you, to the extent that you can, choose a period when your work will not be too demanding. Or have arrangements with your company beforehand that you will need time to settle.
2. Where to stay
If you already know which state/city to relocate to because of your work location, it is time to dig deeper into different neighborhoods.
If you are unsure or have a few options, pay special attention to the cost of living because it is significantly different between states or cities within the same state. The cost of living includes many components, from housing, owning/maintaining a car, the cost of healthcare, education, food and groceries, etc.
To dive deeper into this topic, look at this article I wrote about the cost of living. Or if you want to get a quick overview of the top cities in the US for expats, read this post.
3. Have enough credit limit in your current credit cards (or cash) to handle the initial cash flow need
When relocating for a job, you will need to pay for many things out of pocket, such as moving expenses and new housing costs. Your US company may also require your new bank account information (which I will mention later) before they can start paying you. So it's important to have enough credit on your existing credit cards or cash in savings to cover these upfront costs. If you plan to use credit cards from your current country in the US, ask about foreign transaction fees and exchange rate.
Another option is to get a debit card that can carry your account balance in USD. In this manner, you can take out money from US ATMs without being charged a fee. For example,  Citibank's global wallet debit card wouldn't charge you for using their US ATMs.
I am not a big fan of having too much cash with you since it is risky.
4. The sooner you set up checking/savings bank accounts, the better
There are a few banks in the US that allow expats to open bank accounts right before they relocate. One of them is City National Bank. (Yes, it is a real bank, not a fictional one. I had that question before :D.) Certainly, they are not amongst the largest banks in the US, but they have services that are friendly to foreign expats. With proper verification (company employment letter, US visa, passport), you can start to open a US bank account and a credit card with them before you fly and have them ready to be used after you land.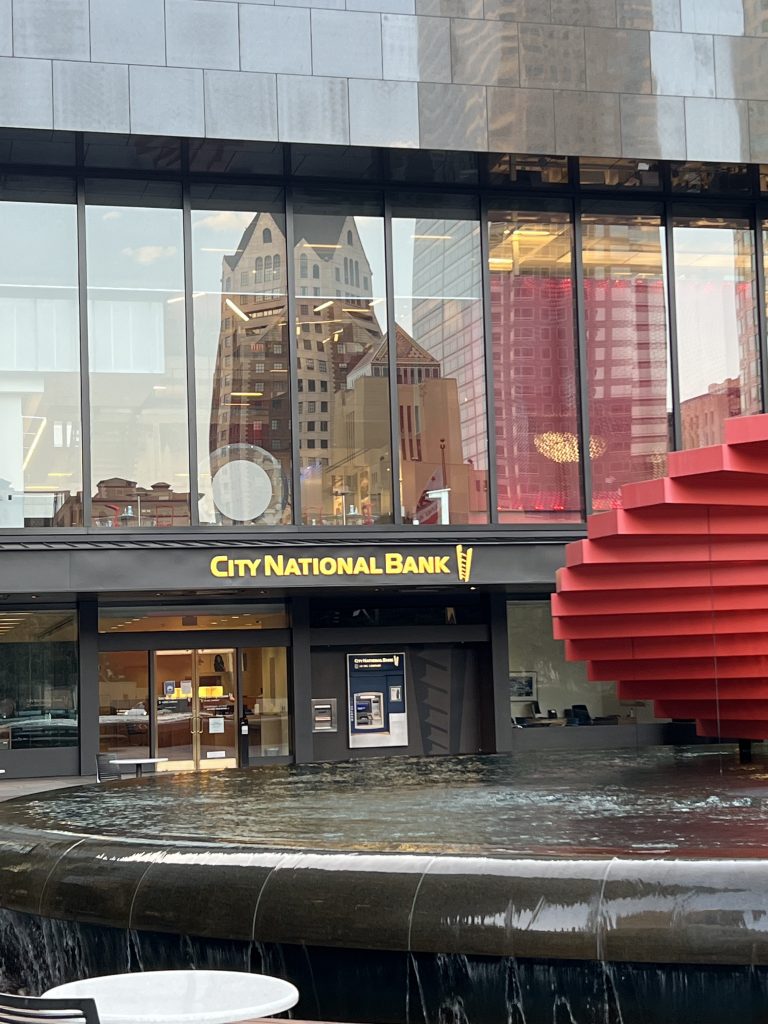 In your first week, it is advisable that you also set up appointments with other banks in the US so you can open accounts with them. This will give you more options to choose from later on.
Setting up a new bank account with Bank of America is relatively easy. Of course, you need to put in some money, but there is no minimum to start, so you can put in just a few hundred dollars. To set up a new bank account with Bank of America, you only need your passport, visa, and proof of address. Note that you don't need to have social security number. You can update it with the bank after. 
In the near future, you might likely sign up for a credit card with JP Morgan Chase. I recommend setting up a checking or savings account with them so that they start having your record in their system.
Also, explore opening a high-yield saving account (HYSA) early if you can. The main reason is that the interest rate (as of Feb 2023) for a typical annual percentage yield (APY) of a HYSA is about 3.5%. After you have your social security number, it should be easy to open. For more information about high-yield saving accounts, read this article.
5. Try to get a credit card as soon as you can to build your credit history
City National Bank is one of a few banks that work with expats and allow us to open unsecured credit cards before we arrive in the country. Hence I recommend them. More on credit cards below.
My friends and colleagues always talked about how crucial credit history was, but I never understood it until I moved to the United States. Your credit score hugely impacts your life here–from renting an apartment to buying a car or signing up for a post-paid cell phone plan. Here are my specific tips on how to improve your credit score quickly in the first few months after your arrival.
6. Health insurance is expensive in the US
Like many things, we knew the expensive health insurance rates were coming before we uprooted our lives and moved. What I wasn't prepared for was just HOW MUCH it would cost to have full coverage here – multiple times over what we paid in Singapore!
It's crucial to request your employer include you in their health insurance plan starting from the day you arrive in the United States. You never know when an accident might happen, and it's better to be safe than sorry. Unfortunately, the premium will be deducted from your paycheck.
By sending you all of the insurance cards well in advance (medical, dental, vision), you can use them as needed without worrying about a delay.
Furthermore, it is crucial to locate a pediatrician early (if you have children) as well as a family primary care physician. Even with typical symptoms, it can be tough to maneuver the US healthcare system. In Singapore, for instance, you can simply walk into any neighboring clinic without an appointment and wait no longer than 20-30 minutes to see a doctor. Here in California, however, they will ask that you make an appointment and come back another day or visit an urgent care center– which costs quite a bit more money. It's not the most enjoyable thing to learn, but unfortunately, there is no other way around it.
If your company is asking you to consider a high-deductible health plan (HDHP), read the pros and cons here.
In the future, when you are ready to take a deeper dive into the US healthcare system, take a look at this post.
7. Research carefully and put money into Health Saving Account (HSA) and Flexible Saving Account (FSA)
Your company will most likely ask you if you want to contribute money to a Health Saving Account (HSA) or Flexible Spending Account (FSA) within your first month in the United States. I had no idea what they were or how they could help us to save on taxes, so I didn't select either option. That was a mistake on my part.
With that said, do your own research (carefully) prior to making any decisions; more often than not, after investigating, you'll want to set some money aside in both HSA and FSA. They are that crucial, which is why I wrote two additional pieces on HSA and FSA. Take a look and then decide how much you want to contribute to HSA and FSA.
8. Finding the right public school for your child is important
Before we moved, we had already decided to send our child to a public school in the US so I focused my research in that direction. A few things to note:
You can enroll your child at any time during the school year. This is different from Singapore. As a foreigner in Singapore, you can't enroll your child at any time during the school year.
Which school should I enroll my child in?

While I understand that academic results are not everything, I use a few websites below to research: https://www.niche.com or https://school-ratings.com/index.html for California schools. 
We believe that it is essential to have a diverse group of nationalities represented at the school, and you can use a few quick Google searches to find out that information.
The school district I chose offers online registration, so I did everything related to registering my child online.
The school's website often has staff members' names and email addresses, so you can email them with questions. I found that they responded quite quickly when I reached out.
Before your child attends school, you will be required to submit their vaccination records. Be sure to have a printout or pdf version ready beforehand.
The school may request additional vaccines for your child after looking at their vaccination record – this happened to us, so be sure to schedule a pediatrician appointment as soon as you get your health insurance cards. If not, you might have quite a wait before being able to see the pediatrician.

Zillow can help you research rental prices and available units near schools. Unfortunately, the closer the school is to your house, generally, the more expensive 😐
If you want to have a deep dive into this topic, check out my post on enrolling children in US schools.
9. Car rental with your local country driving license
If your local driving license has your picture and is in English, you can easily rent a car. If not, you'll need to get an International driving permit (IDP) before renting a vehicle since the IDP will be in English.
Save money on your car rental by booking through Costco instead of directly with the company. You'll need to sign up for a membership and create a travel account, but it's worth it to get access to Costco's prices. Bonus: you don't have to pay in advance or worry about cancellation fees when you book through Costco!
If you're looking to rent a car in the United States anytime soon, be prepared to spend. Without insurance, it's easily $50-$60/day. And once you factor in insurance, things start adding up quickly. Unfortunately, if you're new to the country, your insurance options are limited. I recommend checking out a few things:
Save money by signing up for annual roadside assistance with the American Automobile Association. This way, you won't have to pay per-day charges from a car rental company.
I have very little experience with collision damage waiver (CDW) claims as I've never filed one before, so you'll need to do your own research. A good place to start is by checking with your credit card company to see if they offer coverage for CDW and other situations. More often than not, if you use their credit card to pay for the rental car, you will be covered; but make sure you read the fine print.
Third-party liability insurance: this is to cover situations where someone wants to sue you/seek compensation in case of accidents. Read the fine print carefully to understand the coverage for someone using a foreign driving license.
Note that the gas price between nearby stations can differ by more than 20%. So look for cheaper options. More information about this can be found here on why gas prices are so different between US stations.
10. How to change your local Apple app store account or Google Play account to the US accounts
If you want to download US mobile apps (like US banking apps), change your local Apple/Google app store account to a US one. Unfortunately, neither Apple nor Google makes it easy to change the country setting, so I had to create new accounts.
The only way to create new Apple or Google accounts is with a U.S.-based debit or credit card and an American address—but you can't set those up until you have a United States bank account. The good news is that if you open one with Bank of America/Chase, you won't have to wait for your physical debit card to arrive in the mail 1-2 weeks later (as is currently the norm due to pandemic-related delays). Instead, once your checking account has been approved, you'll be able to start using their digital debit card for Apple Pay or Google Pay right away.
Keep all your data on the phone by selecting the corresponding option when you change to another account; otherwise, it will be a total mess.
11. Get your social security card/number
Upon arrival in the US, you should set up an appointment with the social security office. At the end of 2021, appointments can only be made two weeks after arriving in the country, so schedule yours as soon as possible. The visit is relatively straightforward and should take no more than 1 hour. However, due to the current situation in the US, it may take 3-4 weeks for your social security card to arrive in the mail instead of the normal 1-2 week wait time.
Be aware that after you get your SSN, other systems may not have a record of it because it is brand new. For example, this can cause problems when signing up for a postpaid phone plan.
Yeah, I know (:D) I had to jump through hoops to sign up for a post-paid phone plan even after I got the SSN. The plan itself is less than $60/month so you know, not a big amount of money by any stretch of the imagination. It is, of course, completely different from Singapore. After you receive the EP card, you are set. Setting up different services is a breeze. So adjust your expectation and plan for it. Clearly, I didn't. 
12. Ways to make your apartment-hunting easier
Given that it can be difficult to find a rental property in an unfamiliar area, this topic should be given priority. However, since my experience is limited to only one instance, I can only offer tips specific to my situation.
Your company should provide you with a letter of employment that outlines important information such as your legal name, job title, annual salary, and start date. This will come in handy when relocating to the United States.
If you're relocating from another country, let the agent, property manager or owner know immediately. You may not have a social security number yet but you're in the process of getting one. This means that your credit history is limited to only your home country. If they don't accept this, move on and look elsewhere; there are plenty of other places that will be happy to house you.
Cultural norms play a role in where people feel more comfortable living- for example, locals in California usually opt for houses over apartments. My family and I lived in Singapore, so we were used to apartment complexes. Use this fact to your advantage; what this really means is:

There's no need to feel pressured into signing a lease for an apartment within 24 hours of seeing it or paying an extortionate deposit fee. There are plenty of units and complexes to choose from.
I always walk away from a property management company or landlord if they ask for more than one month's deposit. I did this when I didn't have my social security number yet, because you're not a first jobber or fresh graduate.
Although you may feel anxious about being a foreigner without credit history, don't fret. It is simply a game of supply and demand, and luckily for you, people tend to prefer not staying in an apartment complex. You have the advantage.
Most leases are for one year, so it's no wonder that few offer a two-year cope.
It is important to consider which public school your children will be attending, based on the location of your apartment or house.
Of course, once you find a place that you really like, then it's fine to conclude the deal quickly.
Always remember to request a discount at the beginning. For example, we received one month free rent after our two-month stay; this is a popular promotion that many property management companies offer.

In my situation, one property asked for a notarized letter of employment. However, I checked with my US company HR and two property agents then decided against it because it is not standard business practice to do so.
Having a co-signer will make the process smoother, but it is not necessary. I did not have a cosigner when I rented my current place and didn't have to pay a 1-month deposit either.
Since not many reviews are available on Google Maps, it's ineffective to only base your research off of those. And furthermore, once you look at a handful of apartments, you'll see that their star ratings are relatively the same because people use Google Map review mostly to complain rather than compliment. So instead, visit the place in person. Don't write-off older complex just yet–often times they're better kept and cleaner than newer buildings that aren't maintained as well.
It was a total happy coincidence that our rental complex had its own garage for each unit. It's such a bonus! With it, you can treat your garage as one giant storage space :D. We hadn't been looking for this feature specifically because where we're from –Singapore– most condos or HBDs don't have a designated garage per unit.
For more information on questions to ask before signing a lease, check out the article.
13. Getting your local driving license
Getting a US driver's license is an important step in establishing your legal presence in the US and can make it easier to navigate transportation. The driving license can be used as your ID too.
I wrote a detailed article on tips to get your driving license here.
If you decide that you don't want to get the local driving license right the way, and want to wait for at least a few months, you can (and should) apply for the state ID. It can be used as an official ID. The application process is pretty straight forward at your local DMV. More information can be found here.
14. Download Google Maps offline
The offline map function from Google Maps is especially useful in areas with bad or spotty internet connections. For example, I have lousy service just outside of San Francisco, Mountain View, and the East Bay area. In less than two months, there have been at least two occasions where the internet stopped working, and we were stuck for 15 minutes each time. I had to switch service providers from T-Mobile because their coverage was not good enough in comparison to my other options. If you're looking for a provider, I would advise against using T-Mobile.
15. Set up a utility account with PG&E for those who live in California
If you live on the west coast, you're going to need a PG&E account. You can sign up for one here. Even if you don't have a social security number, there's no need to fret–you can still set up your utility account by calling the customer service line on their website.
Don't forget to request your account number from the representative over the phone so that you can then set up online access.
16. Renter insurance
I live in an apartment complex, and the management company requires all tenants to have renter insurance. After doing some research, I found that AAA's prices were the cheapest, so I decided to go with them. This is my first time getting renter insurance, so I don't know how the claims process works yet. All I know is that their price was almost half of what the other provider (that the management company recommended) quoted me. My real estate agent told me about AAA's renter insurance in the first place.
17. Buying your first car
In many states (like in California), life is really hard without a car. So it is natural that you are thinking about leasing a car or buying one.
Given that this is a big purchase, I wrote a few articles about it:
18. Sign up for a Costco membership and get the free household membership
You can sign up for the Costco membership program without a social security number, so I signed up during the first month of moving here. Certain Costco locations also have cheaper gas prices at their stations, so take advantage of it if you can. I didn't know until later that executive members could get another free membership card for one household member. Check out the details here. This way, each person can go on their own if they want to.
19. You can use a car rental for the "behind-the-wheel" driving test
You can use a rental car for your driving test, but you must let the rental company know beforehand. They will need to prepare a letter saying that you are not violating the contract when you drive the car for the exam. Also, make sure to take all of the insurance offered by them. The DMV wants to make sure that the car is fully insured when you go for your exam.
I had no idea you needed someone with a valid driving license to accompany you to the exam. And it can be anybody – not just somebody related to you. I went by myself and they didn't let me check in for the behind-the-wheel test.
20. What credit cards to get?
If you can get a credit card from City National Bank, get it. Do not get multiple City National Bank credit cards as the benefits are significantly worse in comparison to other options, even if it's the only credit card you can get for a few months. It's important to establish credit history, but one card is sufficient. If City National Bank offers you a high credit limit, take it! Having a higher credit limit lowers your utilization rate which helps improve your score.
Deciding whether or not to get another credit card is a personal decision that depends on your lifestyle, preferences and objectives. From my research, I recommend the below in sequence:
If you have an American Express card from your previous country of residence, apply for a suitable Amex credit card in the US. The benefits of Amex cards are better than City National Bank's.
If you plan to apply for an American Express Platinum card, you can use my referral link here.
I wrote another post about which credit cards to get for travel benefits here.
What not to do:
Before signing up for any credit cards, always check if there are sign-up bonuses. For example, some banks have limits on the number of new accounts you can open within a certain timeframe (like Chase's 5/24 rule), so compare the bonus offers from other companies to see if it's worth maxing out your limit with one bank first.
For example, as of now, Chase has an 80,000 points sign-up bonus. Macy'scard only gives you $200 dollars in comparison.
Last but not least, I recently created a group on Facebook called Asian Expats in the US so that we can share/discuss more tips directly. Feel free to join.
That's all from me for now. And remember to relax! Relocation can be stressful.
"I wish I could live a little more
Look up to the sky, not just the floor" – Million Years Ago by Adele
Cheers,
Chandler