I wrote the original article about relocation from Asia to the US about 18 months ago. So after about two years of living in the US, it is time for an update. Relocating from Asia to the United States can be an exciting yet complex process. With careful planning and attention to detail, you can make this transition smooth and successful. Here's a comprehensive guide to help you navigate the relocation process.
(Disclaimer: The below tips are based on my personal experience and may not be representative or most up-to-date. Always consider multiple sources or talk to a certified financial planner/professional.)
Table of Contents
1. Timing Your Relocation
Optimal Timing: Consider moving in late November or early December, when work may be less hectic due to seasonal holidays.
Avoid Delays: Be mindful of office closures in December, which can slow down tasks.
Work Considerations: If November doesn't suit you, choose a period when work demands are low or make arrangements with your company.
2. Where to Stay
Choosing the right place to stay is crucial. Here's what you need to consider:
Research Neighborhoods: Evaluate factors like cost of living, including housing, transportation, healthcare, and more.
Explore Options: Read articles or posts about the top cities for expats and the cost of living in different areas.
According to the Council for Community and Economic Research (C2ER)'s Cost of Living Index, here is the top 10 most and least expensive urban areas for Q1 2023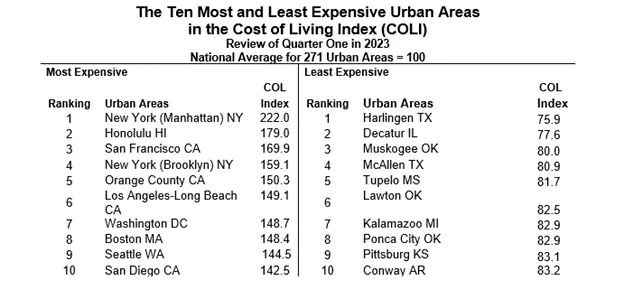 If you consider San Francisco or the Bay area as a potential place to stay, then I strongly recommend Foster city. You can read more about the pros and cons of living in Foster city here.
3. Financial preparations
When relocating for a job, you'll need to handle initial cash flow needs. Here's how:
Credit Limit and Cash: Have enough credit on your existing cards or cash in savings to cover upfront costs.
Consider a Debit Card: Get a debit card from your original country, that can carry your account balance in USD to avoid fees. Look into options like Citibank's global wallet debit card to avoid fees at US ATMs.
Avoid Carrying Too Much Cash: It's risky to carry large amounts of cash.
4. Banking in the US
Setting up your financial foundation in the US is key. Here's what you need to know:
Open Bank Accounts Early: Banks like City National Bank allow expats to open accounts before relocating. Once you land in the US, you do not need to have social security number to open an account at large national banks like Chase or Bank of America. So open savings/checking accounts early, using your passport, US visa, proof of address like temporary housing/corporate housing. (FYI: this is my referral link so we are both rewarded when you use it.)
Explore High-Yield Saving Accounts (HYSA): Consider opening a high-yield saving account early for better interest rates. Since the US Federal Reserve started to increase interest rate last year 2022, HYSA can give you more than 4.25%+ /year interest rate. You can read more here.
5. Building credit history
Get a Credit Card: Banks like City National Bank offer unsecured credit cards for expats. This is valuable because, without any credit history in the US, it is virtually impossible to get an unsecured credit card.
Understand Credit Score: Learn how credit history/credit score impacts various aspects of life in the US and find ways to improve it.
I managed to go from a zero credit history to a score of 720+ after 5 months in the US. Here is how I did it.
6. Healthcare in the US
Healthcare in the US can be expensive and complex. Here's what you need to know:
Insurance Coverage: Request your employer to include you in their health insurance plan from day one.
Find Physicians Early: Locate a pediatrician (if you have children) and a family primary care physician.
Consider Health Saving Accounts (HSA) and Flexible Saving Accounts (FSA): Research and consider contributing to HSA and FSA to save on taxes.
7. Schooling for Your Child
Finding the right school is essential. Here's a guide:
Enrollment Flexibility: You can enroll your child at any time during the school year.
Research Schools: Use websites like Niche. If you plan to stay in California, the state has a school dashboard that includes a lot of information about test scores, diversity, etc…
Consider Vaccination Records: Have a printout or PDF version of your child's vaccination records ready.
8. Transportation and Driving
Whether renting or buying a car, here's what you need to know:
International Driving Permit: Obtain an IDP if your local license is not in English.
Car Rental Tips: Save money by booking through Costco and consider annual roadside assistance from AAA.
Buying Your First Car: Consider leasing or buying a car. Here's a guide for expats.
Local Driving License: Getting a US driver's license is essential. Read the tips here.
In the event that you don't plan to get a US driver's license early, you may want to consider getting a state ID.
9. Tech and Utility Tips
From mobile apps to utilities, here's what you need to know:
Change App Store Accounts: Change your local Apple/Google app store account to a US one. You will need to use a US debit or credit card to do this. And you may not be able to change the account so signing up for a new account is another option too.
Download Google Maps Offline: Useful in areas with bad or spotty internet connections.
Set Up a Utility Account after you sign the lease agreement.
10. Social security number
Schedule an Appointment: Set up an appointment with the social security office as soon as they allow you to do so.
Expect Delays: It may take additional 3-4 weeks on top of what they tell you at the social security office for your social security card to arrive.
11. Apartment-hunting / house-hunting tips
Use Platforms: Utilize Zillow or Redfin to find suitable listings.
Understand Cultural Norms: Consider local preferences for housing types. If you purposely select the non popular housing type (like apartment in the West Coast), you will have more leverage.
Negotiate: Always request discounts and be cautious with deposits.
12. Join Our Community
If you're planning to move to the US or have recently moved, join our Facebook group, "Asian Expats in the US," for tips, support, and a sense of community. We're here to help!
Subscribe to Blog via Email
Let me know what you think of the above tips/recommendations.
Chandler