It shouldn't be a surprise to learn that Ray Dalio continues to share with the world his wisdom about lessons learnt from history, where we are and what to come.
He recently did an interview with TED titled "what coronavirus means for the global economy" and also started to share a great series on LinkedIn "The changing world order". Reading the first chapter "The big picture in a tiny nutshell" will give you a lot of context behind Ray's comments on TED. So I encourage you to read the article first before watching the TED talk.
"Unprecedented" ?
If you follow the news, especially over the past 3-5 years, the word "unprecedented" is used in many situations. Every day, there seems to be something new. Every other month, a leader somewhere does something unprecedented. Too much noise can distract us from the larger themes and that is one key thing Ray reminds us, by helping to distill key insights over the past 1500 years about how different empires/countries rose and fell.
A lot of other people have presented a similar graph before. As you can see, China (the red line) has always been a big empire/country with strong standing in the world, except for the period from 1800 – about 1970. Many other empires rose and fell through history and it is perfectly normal.
If we zoom into the last 500 years, this is what the graph looks like.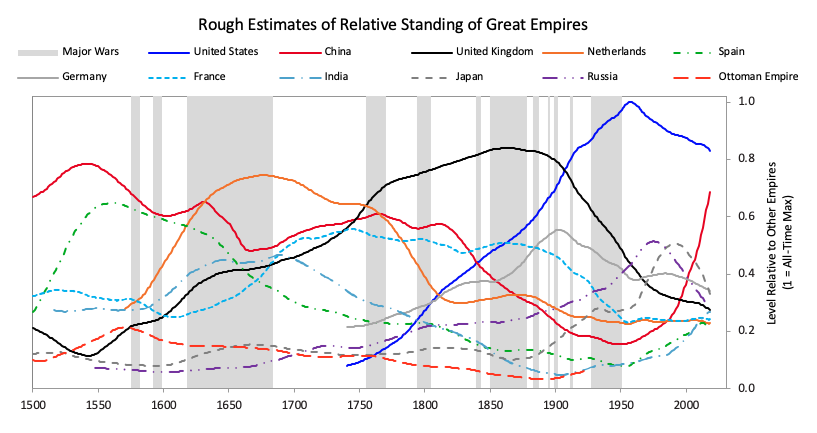 It is clear that the US (an incredibly young country) is in a strategic competition with China over the past 20+years. Will this lead to arm conflict between the US and China in the next 20-50 years? I wrote a piece about this dynamic here.
Was the US at its "empire peak" back in 1950 – 1960?
Looking at the above graph, one can't help but wonder whether the US has passed her prime and now in a slow decline relative to China? Is the decline reversible?
If so, what does a typical rise/fall look like for an empire? What are the key factors contributing to an empire's rise or fall in wealth and power?
Ray and his team look at 8 factors: 1) education, 2) competitiveness, 3) technology, 4) economic output, 5) share of world trade, 6) military strength, 7) financial center strength, and 8) reserve currency.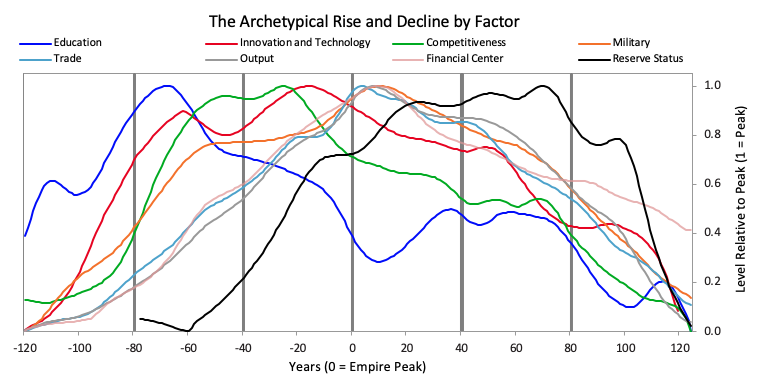 Overall, it seems that for each empire, a big cycle of rising and declining is about 250 years. Ray will tell you that this is an estimation and obviously each specific case can be a bit different.
Education, Innovation and Technology are the two leading indicators.
So I am looking forward to seeing the next article from Ray in this series. I hope that Ray can share the individual country profile (US and China) with regards to the 8 factors above.
Also, given that education is such an important factor, it will be good to deep dive into education and unpack it a bit more. How did Ray and his team come up with the "education curve" for the US and China and other countries? What are the key components within the Education score? A few facts that we know about education are:
The US' PISA score has been stagnated over the past 20 years. (PISA score is probably the world's most comprehensive and reliable indicator of 15-year-old student capabilities. PISA 2018 scores and insights are here).

Students in the US rank 15th in reading, outside the top 30 in maths, outside of the top 15 for science.

US universities consistently rank top of the world according to QS ranking.
Hundreds of thousands of Chinese students studying abroad every year. Stats from China Ministry of Education are here.
I have a lot more questions and can't wait for the next article in the series 🙂
Chandler
Please follow and like us: